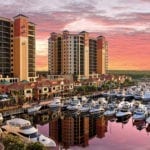 Southwest Florida is a boater's paradise. Boating and Florida go hand in hand. Being in a boat is the perfect way to enjoy the endless sunshine and shoreline along the Gulf of Mexico. Since boats are quite the investment, it's important that they are stored properly throughout the year to ensure they are safe, whether you're away from it for a day or several months. Many boaters are fortunate also to have their boat in their backyard, but there are also great communities in Florida that do not have Gulf access. That being said, there is certainly no shortage of boating storage places and marinas in the Southwest Florida area for people to use.
Many of these marinas and boat storage places come with different services and modern conveniences to help with the maintenance and docking of your boat, such as: pump-out stations, internet connections, power, cable TV, pools, laundromats, showers, tackle shops, on-site hotels, restaurants and more.
Whether your needs are short and sweet or lengthier in detail for your boat, there is a marina and/or boat storage place in Southwest Florida to accommodate your specific requests and requirements for yourself and your boat. Below are top suggestions of the best marinas and boating storage places in the area for you to set sail from!
Cape Coral
Cape Harbour
Location: 5828 Cape Harbour Drive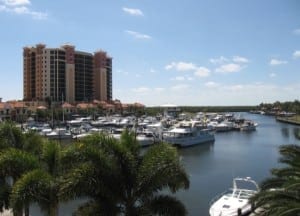 Info: This marina is extremely close to the Gulf of Mexico, just 3.5 miles from it! Because of the short distance, boaters can avoid slow and no-wake zones. Boats can be stored inside at The Boat House or docked at one of the 76 wet slips; these slips can accommodate boats up to 65 feet in length. Fifteen slips are available to residents, the public, and boat clubs both for annual and transient dockage. Indoor storage is great for smaller boats. This marina allows boat clubs, poker runs, and boast rendezvous for up to 30 boats.
Cape Coral Godman Yacht Club Basin
Location: 5815 Driftwood Parkway
Info: This marina is located on the Yacht Club Community Park with 89 boat slips that can dock boats up to 55 feet in length. Boating amenities include: pump out station, showers, restrooms, washer and dryer and a fuel dock facility. Daily, monthly, and annual rentals are available at this marina.
Tarpon Point Marina
Location: 6179 Black Marlin Lane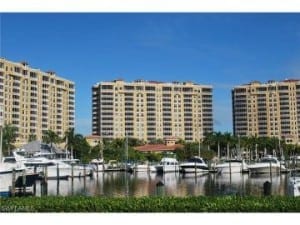 Info: This marina is within a few miles from the Gulf of Mexico. It has 200 slips that can accommodate boats up to 75 feet with special accommodations for boats up to 95 feet. Most of the slips at the docking facility are available for the public to rent. This marina has a fuel dock with discounts for tenants.
Fort Myers
Fort Myers Yacht Basin
Location: 1300 Lee Street
Info: This marina is 15 miles inland from the Gulf of Mexico, located in downtown Fort Myers. There are 240 slips available here. Transient dockage, power connections, showers, laundromat, restaurants, Wi-Fi access, pump-out, and fuel can all be found at or nearby this marina.
Pine Island
Four Winds Marina
Location: 16501 Stringfellow Road, Bokeelia
Info: This marina is the only full-service boat storage facility on Pine Island. It provides wet slips, dry storage, boat lifts, night-time security patrols, and security cameras. This marina offers Wi-Fi access, outboard repairs, an on-site restaurant, ship store, and easy access to Cayo Costa, Useppa, Boca Grande, and the Gulf of Mexico.
Fort Myers Beach
Snook Bight Yacht Club & Marina
Location: 4765 Estero Boulevard
Info: This marina is known to have more amenities than any other marina in Estero Bay. It has 70 new floating docks for boats up to 50 feet, 200 indoor racks, members pool, members club room, a waterfront restaurant, laundromat, ship store, service center dolphin tours, gas and diesel, and much more. The racks and slips are available to both rent and purchase.
Salty Sam's Marina
Location: 2500 Main Street
Info: This marina is located on the intercoastal waterway, 10 to 12 minutes from the Gulf of Mexico. It offers both dry and west storage. The dry storage can hold boats up to 45 feet long; their wet storage includes 135 slips that range from 40 to 100 feet in length. Amenities here include:  pump outs, Wi-Fi, laundry, showers, fuel, ship store, repair shop, and more!
Live Nearby a Marina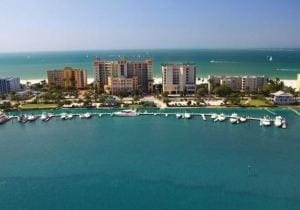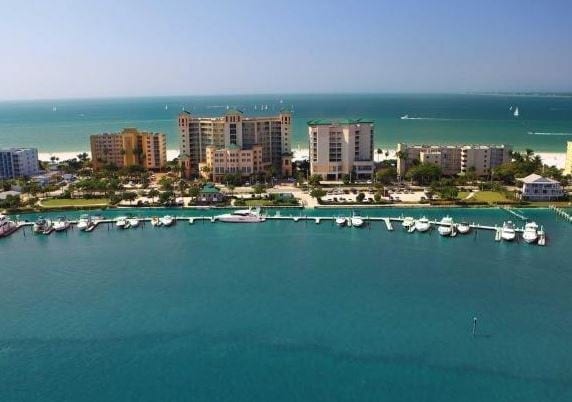 Southwest Florida's marinas offer lots of services for boat owners and renters. Even if you aren't boating, a walk by one of these marinas can be a fun and peaceful outing! If you're interested in purchasing a home in Cape Coral, Pine Island, Fort Myers or Fort Myers Beach, these are the best marinas for you to dock your boat at or rent from. Want to know more about these local marinas, or communities nearby? Contact Brenda and Dave of Sage Realtor group at 239-896-8549.
Did You Miss Any Other Relocation Guides?
Here are links to past months' relocation guides:
SWFL Pine Island and Matlacha
SWFL Spring Training
SWFL Arts
SWFL schools
SWFL Golf Clubs