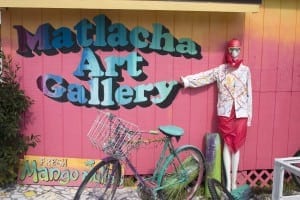 Sure, Pine Island may be a small island in Southwest Florida, but it has a BIG personality. The charming fishing town, especially its community of Matlacha, offers visitors beautiful views and a creative environment to enjoy. The area is filled with artists. If you want to get away from it all, Pine Island is the place to enjoy a little bit of peaceful paradise off the mainland. The pace is a little slower here; there are no tall buildings, or traffic lights – this island is a little glimpse of a Florida from long ago.
Matlacha
When you enter Matlacha, you are greeted by a sign that reads "Island Time Zone Begins Here" – this sign certainly describes the fun vibe of this small community. It is just west of Fort Myers and Cape Coral and is one of five communities on Pine Island. Matlacha is its own smaller island east of Pine Island.
Matlacha is surrounded by many empty isles where fish live, making the area an ideal fishing spot. Kayakers are also often spotted exploring the backwater areas surrounding the island.
The island is a fishing village, but it is well-known for its art galleries. The art district area is very vibrant, fun and full of color. On the main road, there are several galleries, studios and shops. Here are a few great galleries to check out on the island:
Matlacha Menagerie – this is an eclectic art gallery filled with talavera pottery, bronze sculptures, fountains, paintings, clocks, jewelry, specialty and unusual gifts, and more.
Wildchild Art Gallery – this is a contemporary art gallery with the work of more than 120 Florida artists inside. Art mediums include: fine art, canvas art, paintings, and jewelry. The gallery offers art classes and workshops throughout the year and hosts parties and other events, as well.
Lovegrove Gallery and Gardens – If you want color in your life, come here. Leoma Lovegrove's Gallery and Gardens is decorated with bright pinks and greens and polka dots. Lovegrove is an impressionist-expressionist painter who is known for her work of flora and fauna. Her artwork and designs are featured in the department story Bealls' clothing, wall art, and dishware.  Her gallery sits alongside tropical botanicals featuring the flora indigenous to Matlacha and Florida. Lovegrove also offers classes and rents out the space for events.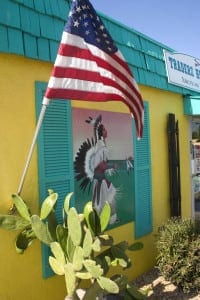 Other great galleries: Island Visions, Frills, Trader's Hitching Post, and Bert's Pine Bay Gallery.
Every year, the island is home to the Mullet Toss Championship in Matlacha's community park. This fun event celebrated its 25th year in March. People come from all over to watch these tiny fish fly in the air! Many people participate to try and get the mullet-tossing world record.
After exploring the galleries and the rest of the island, hunger may strike. For a bite to eat, the island has a few spots that are worth checking out: Olde Fish House Marina, Blue Dog Bar & Grill, and Bert's Bar & Grill (Bert's can be accessed by boat!).
Pine Island
Pine Island is the largest island off the Gulf Coast. After driving through Matlacha, you will reach the bigger island. The island is full of mangroves, three aquatic preserves, and an abundance of fruit and tropical plants. Just like Matlacha, the island is known for its great fishing.
Every July, Pine Island hosts the Mango Mania festival. People travel from all over to buy and taste the mangoes from this island. This family-fun event celebrates the mango and other tropical fruit; there are contests, music, arts and crafts vendors, shopping, tasting tables, educational talks, and more. There are also markets on the island, like the Pine Island Fruit Market that sell the mangoes, along with lychees and sapodillas when they're in season.
Since there are no beaches on Pine Island, residents and tourists enjoy the water in other ways like kayaking, fishing, sailing, boat tours, and canoeing. The island and the surrounding waters are home to a variety of wild and marine life including dolphins, manatees, and an array of birds.
If you're planning to spend a day or two on the island, here is a list of places to go or areas to check out while visiting the remote island!
Museum of the Islands
Randell Research Center
Cabbage Key
Crossed Palms Gallery
Bokeelia and Charlotte Harbor
Cap'n Con's Fish House
Lazy Flamingo
Woody's Waterside Island Bar & Grill (can also get to by boat!)
The Waterfront Restaurant & Marina (can access by boat!)
Live Nearby Pine Island and Matlacha
Pine Island and Matlacha are great places to explore, spend the day, or enjoy a weekend getaway. The island has great fishing, food, and one of the best art communities in Southwest Florida. If you're buying a home in Cape Coral or Fort Myers, these islands are a quick drive. Want to know more about Pine Island and Matlacha? Or looking to buy a home in the area? Contact Brenda and Dave of Sage Realtor group at 239-896-8549.
Click here to browse Pine Island homes for sale and condos currently on the market.
Did You Miss Any Other Relocation Guides?
Here are links to past months' relocation guides:
SWFL Spring Training
SWFL Arts
SWFL schools
SWFL Golf Clubs