Beach and Canal Homes in Southwest Florida
One of the most unique features of Southwest Florida is its many options for waterfront real estate, whether along the Gulf of Mexico or on inland canals, rivers, bays, or lakes. Nearly all of the waterfront cities—Cape Coral, Fort Myers, Fort Myers Beach, Bonita, Naples, and Sanibel—have canal systems with access to, or frontage on, the Gulf of Mexico.
The variety of waterfront recreation is extraordinary: pleasure boating on yachts, cruisers, or personal watercraft; sailing; kayaking or canoeing, water skiing; and world-class saltwater and freshwater angling.
If you are looking to buy a waterfront home or waterfront condominium in Southwest Florida, this article will help you navigate the choices. And when you use our MLS Search tool to shop for waterfront real estate – whether homes, condos, or building lots – you will find that Cape Coral real estate, Fort Myers real estate, Fort Myers Beach real estate, and other Southwest Florida waterfront property is surprisingly affordable.
Whether traveling by land or by sea, there are beautiful beaches along the entire coast, with Captiva's pristine white sand beaches being perhaps themost well known and the wide sugar-sand Fort Myers Beach a popular destination.
There are 5 general categories of waterfront real estate in the Southwest Florida:
Gulf of Mexico Homes
Riverfront Homes
Sailboat (Direct) Access Canal Homes
Gulf Access Canal Homes
Freshwater Canal and Lake Homes
Characteristics of Southwest Florida Waterfront Property
Characteristics of each are below. In general:
The closer to the mouth of the Caloosahatchee River or the closer to the Gulf of Mexico the higher the values.
The majority of waterfront properties available are on canals in Cape Coral. There are also canal homes in Fort Myers, Fort Myers Beach, Sanibel, Bonita Springs, and Naples.
Fort Myers Beach and Sanibel Island offer waterfront homes and condos that are either beach front or on the bay side. Many Fort Myers Beach and Sanibel bay homes and condos are on canals or in communities with marinas.
Canals range from 80' wide to 200' wide and take boaters to the Caloosahatchee River first, and then the Gulf of Mexico. Properties on intersecting canals are premium because the water view is more panoramic. All canals are no wake zones so a trip to the river could take 5 minutes, 20 minutes or an hour or more if you are far inland.
All SouthWest Florida coastal cities have canal-front properties, with Cape Coral having the largest canal system (over 400 miles of canals).
Much of the Caloosahatchee River out to the Gulf of Mexico is minimum wake or slow-speed 25m.p.h. zones (manatee zones) so being far up river can add travel time to the Gulf of Mexico.
Direct beachfront properties on the Gulf of Mexico are primarily condominimums: low-rises on Sanibel and Captiva and high-rises on Fort Myers Beach, Bonita Springs, and Naples.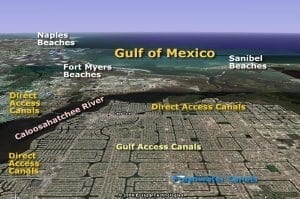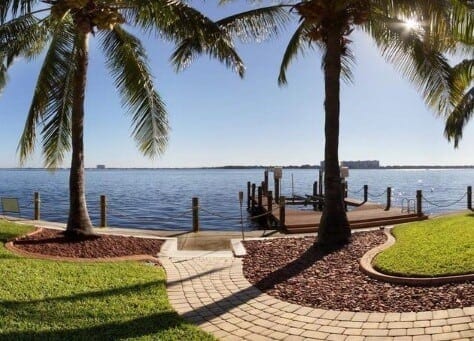 Direct Sailboat Access Canal Homes & Condos
Sailboat access, sometimes called "direct" access, is one of the most desirable locations for boaters. Sailboat access might refer to a property on a canal or a marina. Because they are in-demand properties (and because the supply is shrinking), they are priced higher but also tend to have the fastest and highest appreciation.
Find out what the saltwater, direct access canal system in Southwest Cape Coral looks like from the water by viewing our virtual Cape Coral canal cruise.
Characteristics:
No bridges that restrict access to the Caloosahatchee River and the Gulf.
Because there are no height limitations, sailboat access canals are ideal for bigger boats. So if you are planning for, say, a 40′ cabin cruiser now or in the future, a sailboat access area is where you should invest now.
These properties are generally closer to river (5 minutes to 30 minutes is typical).
Some areas, even though there are no height restrictions, do have a lock you must pass through, which can add travel time to the Gulf.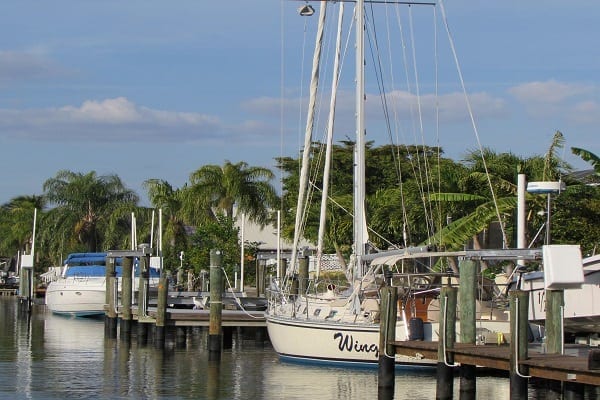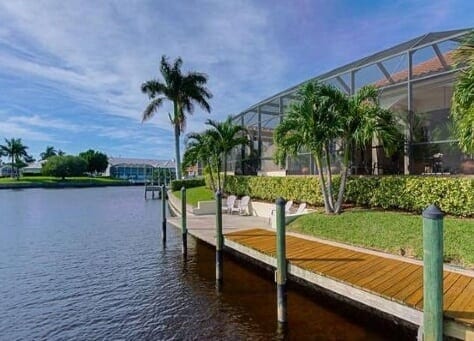 Caloosahatchee River Homes & Condos
The Caloosahatchee spans from the Gulf of Mexico to the east coast of Florida via the Okeechobee waterway. On the West coast, the river runs between Cape Coral and Fort Myers and is a beautiful, wide river. Properties on the river include both single-family and gated communities (condos, townhomes, single-family). The gated communities often have private marinas; the single-family homes often have boat docks and lifts.
Gulf of Mexico Beachfront Homes & Condos
As you would expect, properties that are directly on the Gulf of Mexico are in high-demand. Sanibel, Captiva, Fort Myers Beach, Bonita Springs, Naples, and Marco Island all have beach-front properties, primarily condos but also single-family homes. (Read our recent newsletter article about the town of Fort Myers Beach and beach real estate here.)
Amazingly, it is still possible to purchase a Gulf view condo (2 bed, 2 bath) in the $400,000 to $700,000 range. Properties directly on the Gulf rarely if ever have boat docks or lifts, but might have an inland bay with a marina.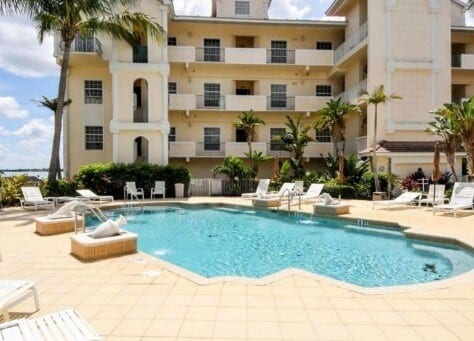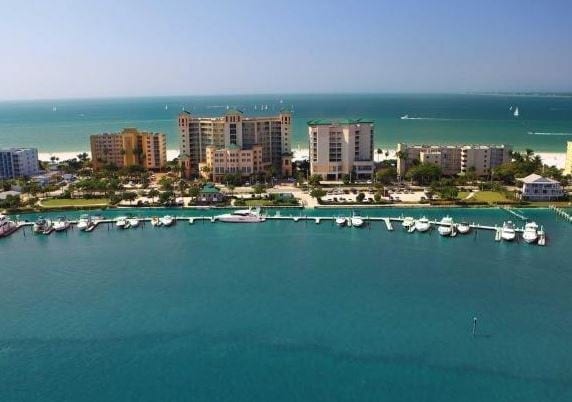 Boating Destinations in Southwest Florida
We have compiled here a list of over 20 of our favorite boating destinations. By no means is this list exhaustive – there are many, many more boating destinations just a short cruise away. Oh, and all of these marinas, beaches, and restaurants, bars are most certainly just as fun to visit by car. The only location below that cannot be accessed by car is Cayo Costa State Park (there are ferry services to get you there).
View our article on Boating in Cape Coral, Fort Myers, Fort Myers Beach, Sanibel and the Gulf of Mexico.
About Boat Storage
Most boats under 40' in canals are stored on lifts to mitigate barnacle growth. Boats stored in the water should have bottom cleaning about every 2 months. There are many firms in the area that offer this service.
Not all condos allow lifts. Dock privileges at condos vary from first come, first-served to assigned or deeded.
There are many types of marinas in the area. Some are public marinas with slips for rent (water and dry dock or "rack" storage). A rule of thumb for slip rental is $11 per foot; marinas or racks that are lower than this price usually have long waiting lists. Some facilities are private and only available to property owners in the gated community. There are also "dockominiums" where slips are for sale.
There are also many public launches for those who trailer their boats.