Condo Buyers: Things to Consider
We have a lot of condo buyers and some are initially a bit overwhelmed trying to decide which type of condo is best for them in Southwest Florida. There are so many options… Beach? Golf? Boating? This is part 2 in our 2 part series on things to consider when purchasing a Southwest Florida Condo.
Association Management
Most condo associations and homeowner associations are governed by a professional management company running the day to day operations. Smaller complexes most likely are run by a board made up of the owners who are chosen by the owners via an election. Each association has specific rules as to what kind of decisions and expenditures can be made by the board and what must be voted on by the owners as a whole.
Condo buyers quickly learn that all Condominium communities have some sort of association fees to cover the costs of the exterior maintenance of buildings, landscaping, exterior insurance, and amenities such as pools, clubhouses, and golf courses. Each condo community in Southwest Florida is a bit different depending on what the community offers. Depending on the condo community type and its amenities, there may be one fee (usually called the Condo Fee or COA) or there may also be additional fees, often a Master Association Fee or Homeowner's Association fee.
Again depending on the community, the condo fees may be charged monthly, quarterly, or annually (typically, only the Master Association fee, if one, is annually). Here are two examples in two different communities to illustrate differences in condo fees, based on community type and association policy.
Colonial Country Club in Fort Myers is a complex example: this community is what is known as a bundled golf course community and has two separate types of subdivisions, or neighborhoods. The first type is designated as a "golf membership" neighborhood, meaning a golf membership and all privileges of social membership convey with the home or condo. The second type is designated as a "social membership" neighborhood, meaning the use of common amenities (clubhouse, fitness, tennis, pools… all except golf) conveys with the property. Those with golf membership pay a condo fee for the property, a master association fee (grounds, common amenities), and the bundled golf fee (unlimited golf with no greens fees). Those with social membership pay a condo fee and a smaller master association fee, but have access to the golf course on a pay-as-you-play basis.
On the flip side, we have the simple example of Caper Harbour Marina South, two condominium towers along the waterfront in southwest Cape Coral. Here, there is just one monthly condo fee and the master association fees are embedded in that fee. So, there is a master association, so that all residents contribute to the upkeep of the entire community, but there is just one fee per month. There is one twist on condo fees in Cape Harbour, and that is that the condo fee is a sliding scale, based on the unit square feet. So owners of larger condos in Cape Harbour pay a bit higher rate than those in the smaller units.
Condominium Document Review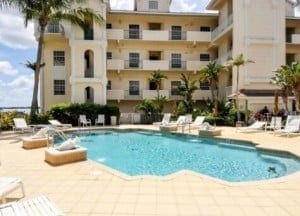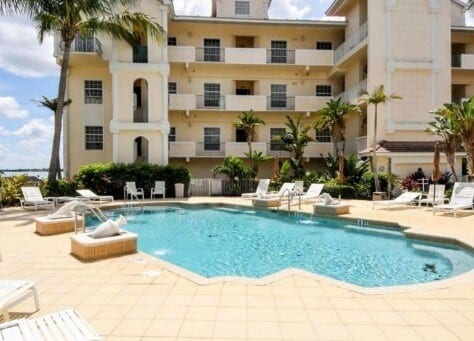 By state law, Florida has a 3 day review period for condo purchasers. A "condo" might be a condominium, a townhome, carriage home or other attached unit.
One you have chosen the condo you want to purchase and have the condo under contract (all parties have agreed to and signed all contract terms), the seller is obligated to provide the buyer will all condominium associated documents. The 3 day review period starts upon receipt of those documents.
The "condo docs" as they are called in short hand include, but are not limited to:
Association financials: the operating budget, reserves, and unit owner fees
Association by-laws and articles of incorporation, including how the association is governed, managed, and voting rights of the unit owners
The rules and regulations, for example:

If leasing is allowed and under what terms (for example, rentals allowed 12 times per year)
If pets are allowed and what restrictions if applicable (size, number, restricted aggressive breeds)
If any vehicles are not allowed (e.g., some communities do not allow commercial vehicles, trucks, or motorcycles)
Most associations have a quiet enjoyment provision, regulating noise in units or common areas and regulating operating hours of common areas so as to not disturb residents (for example, the community pool closes at dusk).

A one page Q & A sheet that answers FAQs such as what constitutes association membership, key rules such as leasing restrictions, and whether or not there is pending litigation against the community (while this is rare, there are sometimes disputes against the original developer or association management).
During the 3 day review period, buyers are encouraged to contact the property management personnel with any and all questions and be completely satisfied with the association finances, unit owner fees, and governing procedures.
If during the 3 day review period the buyer discovers something in the condo docs that is objectionable (e.g., trucks not allowed), the buyer may cancel the agreement and be refunded the earnest money deposit made at time of contract.
What the Condo Fee Covers
The condo fee (alone or in conjunction with the Master Association Fee, if applicable), usually covers all common or "shared" community amenities. This includes grounds maintenance, water and sewer, exterior pest control, association management, street maintenance and street lights, and community pools. Depending on the community amenities, the association fees may also cover common boat docks, guard and/or gated entry, golf course, clubhouse, fitness center, tennis and other recreational facilities.
The condo association fee also typically covers exterior insurance: homeowners (wind/fire) and flood insurance (water intrusion).
The only insurance individual condo unit owners need to purchase is "contents" insurance, sometimes also called "unit owners" insurance. Contents insurance is from "the walls out" and covers personal property as well as interior features of the unit: flooring, appliances, plumbing, electrical, and similar. Rates for contents insurance varies by square footage and other aspects such as your deductible amount. Typically policies are $400 – $800 per year. Most condo associations require all unit owners to carry a contents insurance policy.
Other Association Fees
Condo buyers may also incur other charges depending on the community. Examples include:
A one-time capital contribution fee due at closing. This fee, also called a "transfer fee," is charged to the buyer at closing and goes to the association general fund and is used for ongoing maintenance or board-approved improvements.
A food and beverage minimum. If the community has a dining establishment, there may be a mandatory club fee that you must spend on food and beverages.
A special assessment. If the community has significant improvements in progress, recently completed, or on the horizon, there may be a special assessment charged to all members (unit owners) of the association. The improvement might be at the master association level (golf course improvements for example) or at the condo complex level (such as a new roof or parking lot paving).
A Community Development District tax. This is a form of real estate tax imposed on the community when it was first developed to pay for infrastructure (roads, water and sewer, electricity). It is paid via the property tax bill on an annual basis and is usually $600 – $1000 per year.
An application fee. Many associations require buyers to submit an application as part of the buying process. A processing fee of $50 to $100 is typical and is paid to the association management or board for their time processing the application and performing background checks.