Thinking About Selling Your Home?
Selling Cape Coral Properties, Fort Myers Properties
As your Southwest Florida Realtors, we work diligently to get you fast results. Selling your home can potentially be a frustrating experience. Our objective is to guide you through the process and sell your home for the best price and in the least amount of time as possible.   And we are pro-active communicators: our sellers receive a weekly report detailing every action we've taken to market and sell the property. Most sellers find the biggest frustration is not knowing what's going on or what is being done on their behalf – not so with our process.
Big Fish, Small Pond
We are a small, highly energized and engaged husband and wife team and are selective about the volume and location of our listings. We do this so that our clients receive personalized, focused service. Contrast this with using a "big box" brand franchise, where your listing is just another number among hundreds of other listings.   Ask us about our custom home valuation report—there is no obligation whatsoever. We know we need to earn your business. We do that by providing you with up-to-date facts and market data, and details on how we'll get your home noticed. Call us today to learn more. With the vast resources and marketing experience we get the word out quickly and to the right people. Here are just a few of the services we provide when you list your home with us.
Request a No Obligation Home Valuation
What's your Southwest Florida Home Worth? The Southwest Florida real estate market is always changing, and what was true 6 months ago is not true today. Request a no obligation (really) home valuation using the form below. We are constantly evaluating the market changes, so we get a valuation estimate back to you fast.
Sorry we are experiencing system issues. Please try again.

Preparing to List Your Home
We will provide a thorough analysis of comparable properties in your area to assist in determining the value of your home and its listing price. We can also provide guidance on what, if any, improvements could be made to the home to present it in the best possible light to agents and buyers.
Internet Exposure
81% of all buyers start their search on the Internet. We take online marketing seriously. Your property will be listed with the Multiple Listing Service, which is accessible to all Realtors. Your property will also be listed on the SageRealtor web site, registered with major search engines, giving your home exposure to potential buyers all over the world.
Agent Open House
Homes that are known and seen by other Realtors are the ones that sell most effectively. We will hold a special "preview" open house for area Realtors with refreshments, brochures, and tours. These visiting agents will see your home and tell their buyers about all of its features. We want to be sure we have as many agents as possible working to find a buyer for your home!
Open Houses
We also conduct Open Houses to introduce others to your home. We provide serious buyers with all of the information and attention they need to make a decision on the home. Follow up is critical with these buyers, and that's what we do best!
Ongoing Communication
There is nothing more frustrating than not knowing what is going on during the process. We will keep you fully informed at each step of the way and share feedback that we receive from prospects and Realtors. Additionally, we assist with negotiations and follow-up on all aspects of the sale until closing, ensuring an efficient and hassle-free experience.
Over the past eight years Brenda and Dave have helped us buy and/or sell three properties. We value their honesty, knowledge and wonderful sense of humor. It is nice to know that real estate can be fun.
They know the local market and the real estate business well, and engages to get your property sold. The follow up and follow through are excellent. They helped us make a long distance sale work seamlessly.
Very professional, knowledgeable and tech savvy, without any pressure. As an attorney with 33 years experience in real estate matters, I was more than a little impressed. Probably the most professional agents I have ever dealt with.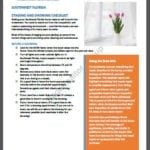 Get our 5 page Staging Checklist as a great tool to help you get your home ready to sell.
We have purchased, sold and purchased again from Dave and Brenda. Always treated us with care and respect. Worked hard to achieve pricing we were offering or asking. Great communication skills. Helped to keep us focused and on track to achieve the goal we had set. Have recommended to several friends who share the same experiences as we have. Highly recommend both Dave and Brenda to purchase or sell.