NW Cape Coral Florida – Looking Ahead at Growth
Several factors are making NW Cape Coral real estate an impressive market area. And we think it's a good time to buy in the northwest Cape. In this article, we discuss what factors are influencing growth in the NW Cape and what types of residential properties and vacant land to consider for investment, retirement, a vacation home or a combination of those.
Where is Northwest Cape Coral?
First, what region of Cape Coral are we talking about? Cape Coral is divided into four quadrants: the southeast, the southwest, the northwest, and northeast. The northwest region is described as being north of Embers Parkway, west of Santa Barbara Blvd, and south of Burnt Store Marina in Punta Gorda. Many home sites in the NW Cape are Direct Sailboat Access or Gulf Access (one or more fixed bridge) to the Gulf of Mexico and great fishing spots in Matlacha Pass and Pine Island Sound.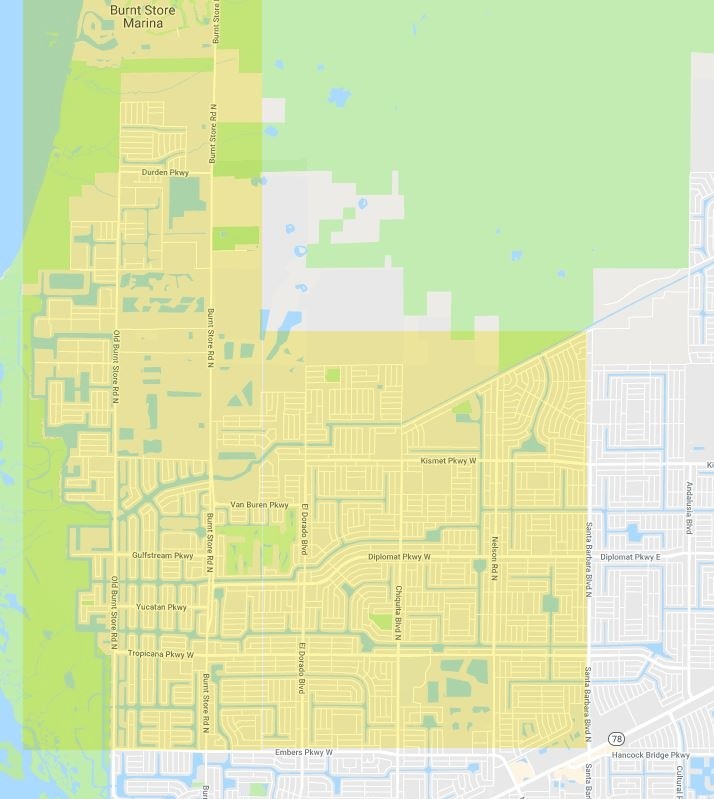 Until recently, the NW Cape was considered too barren to garner much attention. That has changed dramatically and is coming to a pivot point where savvy homeowners and investors are buying NW Cape property. Some are purchasing vacant land as an investment. Some are purchasing vacant land with the plan to build a new home on the parcel in the future. Others are purchasing existing homes (at this juncture nearly all of the NW Cape is made up of either single family homes or light commercial such as retail or warehouses – with very limited multifamily properties or condominiums).
Changes Occurring in Northwest Cape Coral
Infrastructure
The main corridors for NW Cape Coral are Pine Island Road and Burnt Store Road. Pine Island Road runs east and west connecting North Fort Myers to NE and NW Cape Coral and Burnt Store Road runs north and south connecting Punta Gorda to NW Cape Coral. Pine Island Road was widened to four lanes several years ago and is now a hot area for commercial growth, primarily retail. Burnt Store Road widening from two lanes to four is complete.
Additionally, the North 2 utility expansion project is nearing completion. This city-run project brings water, sewer, and irrigation to homes and businesses in the area and is primarily along Pine Island Road. This much needed utility expansion is a key reason for the Pine Island Road area's growth. Other areas of the north will eventually get public utilities and the financial assessments imposed on property owners. 
Related: Nor-Tech Hi-Performance Boat Builder Expands in Cape Coral Florida
The Cape Coral Economic Development Office is assisting with Concourse at Cape Coral—a 130-acre parcel located in Northwest Cape Coral near regional destinations. This public-private partnership with the city includes 55 acres for a corporate park and 50 acres for retail and entertainment nestled in an unspoiled, natural environment.
This business park will be in close proximity to a regional Veterans Administration healthcare center that supports more than 500 employees and serves approximately 1,000 daily patients, in addition to a new apartment complex and assisted living facility. The 320-unit apartment complex, Uptown at Liberty Park, opened its first building last summer, and a second tower is almost complete. The assisted living facility, Atrium at Liberty Park, will open in 2019.
Seven Islands Development
A much-anticipated mixed-use project in Northwest Cape Coral called Seven Islands will be marketed nationally this year following the recent approval of a partnership between the Cape Coral City Council and CBRE.
There is an approved development plan for the seven rectangular-shaped "islands" connected to the mainland for a mixed-use project on the 61-acre site along Old Burnt Store Road. After significant citizen and stakeholder input, the approved design includes 995 residential units—both multifamily/condo and single-family homes—a 240-room hotel or resort with a 25,000-square-foot meeting space, public amenities and commercial development.
What's unique about this opportunity for developing residential, retail, commercial and public spaces in Cape Coral is that the Seven Islands property has been sold to one developer – Gulf Gateway Resort and Marina LLC for nearly $13.5 million. Additionally, the Seven Islands has brand new water, sewer, and irrigation utilities infrastructure. The construction and eventual operation of the resort will bring many jobs in management, hospitality, and maintenance to NW Cape Coral.
In anticipation of the Seven Islands build-out, demand for residential home sites and existing homes near the Seven Lakes region is growing. Future homeowners near Seven Islands can enjoy the amenities, boat , walk or bike to the restaurants and shops, and entertain visiting friends and family there.

Northwest Cape Coral Waterfront Homes

Sorry we are experiencing system issues. Please try again.

Sunseeker Resort
Allegiant Travel Company's Sunseeker Resorts in Charlotte Harbor is a first-of-its-kind destination resort that is expected to transform hospitality, dining and tourism in the Punta Gorda and Port Charlotte regions. The initial phase features approximately 500 hotel rooms, more than 180 extended stay suites, meeting and conference space, as well as a variety of restaurants, bars and retail outlets along a scenic harbor walk. They are currently taking bookings for October 2023.
The Sunseeker resort site is at the southernmost edge of Charlotte Harbour and is about 20 miles by car to northwest Cape Coral. Much like southwest Cape Coral has the Westin at Tarpon Point and Cape Harbour as resort destinations, the Sunseeker Resort will be a magnet for NW Cape Coral, Punta Gorda, Port Charlotte and surrounding regions. The construction and eventual operation of the resort will bring many jobs in management, hospitality, and maintenance. Some of that workforce will choose the NW Cape.
Atlanta Braves Spring Training Stadium
In March of 2019, the Braves opened CoolToday Park, a new, $125 million spring training complex in West Villages Florida, an offshoot of the City of North Port in Sarasota County. It's located about 38 miles from NW Cape Coral. While geographically too distant for most to consider commuting, it is another factor that will drive buyers to areas south and north of the ballpark, which will likely include some buyers coming to the NW Cape who are looking for waterfront property among newly constructed homes.
Both the Twins and Red Sox baseball teams each have a shiny new stadium in Fort Myers, with Cape Coral now situated between three Spring Training and Minor league ball parks. These beautiful parks not only host baseball games but also events year round.
Waterfront Vacant Land in NW Cape Coral
Northwest Cape Coral has mostly vacant land available for purchase. The build out is ongoing and just in the last few years has any notable new construction of residential units been completed (after the slow down of the housing bust). The images below illustrate the difference in saturation of occupied home sites contrasting northwest Cape Coral (top) and southwest Cape Coral (bottom).
Related: What Influences Land Value in Cape Coral?
Related: Should You Consider New Construction?
Recent sales of waterfront residential vacant parcels in northwest Cape Coral illustrate how the area is becoming more enticing to buyers. In the last 12 months, 132 vacant waterfront parcels have sold. Most are in the range of 80K to 190K with a few over (the highest 318K) and under.
Related: Buying Considerations for Gulf Access Lots
Available NW Cape vacant land today includes properties at a high of 450K for a Sailboat Access lot on the Spreader Waterway to a low of 40K for a inland Gulf Access lot.
The NW Cape is a great location for a buyer to purchase waterfront land and then build the dream home and specify every detail.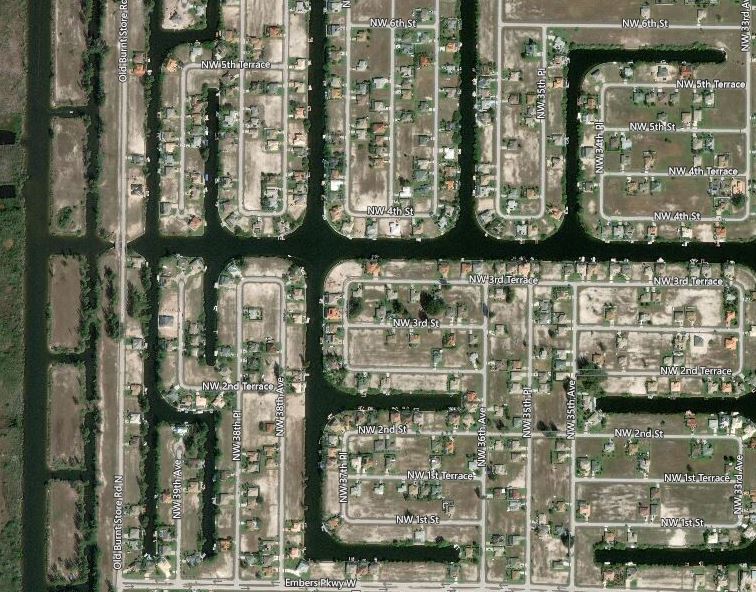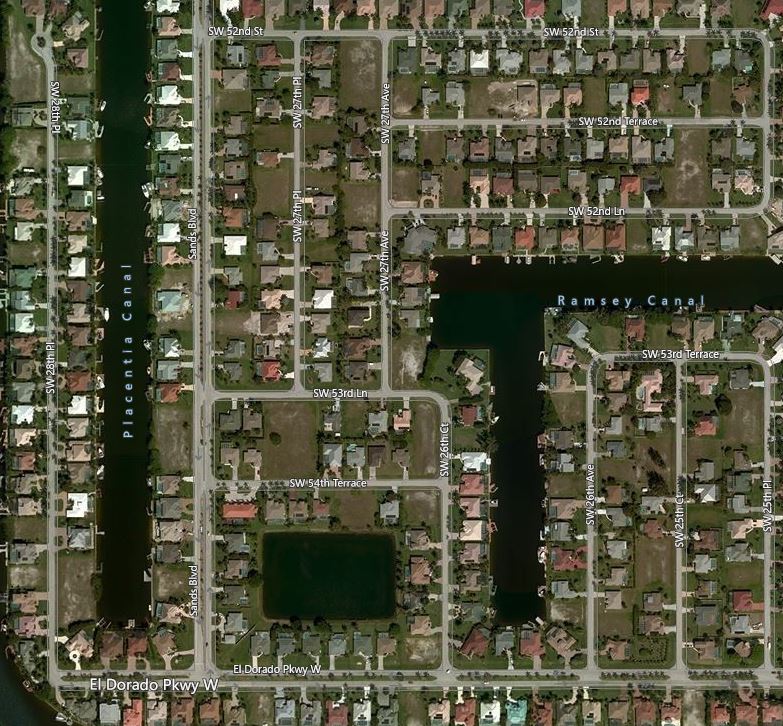 Waterfront Homes in Northwest Cape Coral
Recent sales of Gulf Access single family homes on the water in northwest Cape Coral range from a high of $835 for a 2,500 square foot home on the spreader waterway built in 2016 to $315K for a 1500 square foot home built in 2000.
Available Gulf Access single family homes in the NW Cape range from a high of $810K for a 3,000 square foot home on the spreader waterway to $300K for a 1,500 square foot home inland and built in 1979.
In Conclusion
Several factors are making NW Cape Coral real estate an impressive market area. It's a good time to buy in the northwest Cape, so long as buyers look to the properties that merit investment and will be attractive for resale down the road. In particular, there are many wonderful Gulf Access waterfront parcels that make great building sites and are available at affordable prices.