Frequently Asked Questions About Cape Coral Florida
Where is downtown Cape Coral?
Downtown Cape Coral is along the Caloosahatchee River. Most people describe it as quaint with most buildings being one story storefronts and restaurants. The low-rise nature of the skyline is one reason people miss the downtown area as they pass through it. It's not a high rise type of downtown area. Medians are beautifully adorned with trees and native plants.
The big commercial corridor is at the northern part of the city along Pine Island road.
Downtown Cape Coral is jumping with new bars and restaurants, longer bar hours and more. It's considered a "foodie" heaven. Read more about Cape Coral's nightlife here. And many annual events take place in downtown Cape Coral, such as the Cape Coral ArtFest, the Fourth of July Red White and Boom Party, and more.
For a quick view of South Cape Coral, watch this short video.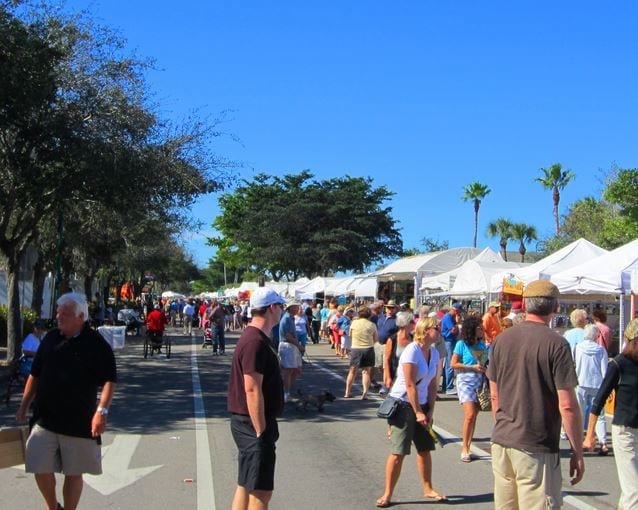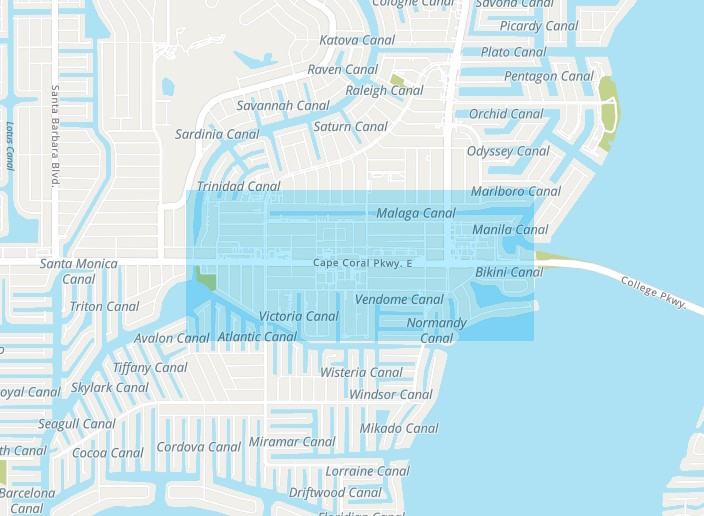 What's with all the canals?
The city of Cape Coral emerged in Southwest Florida during the late 50's and 60's. The Rosen brothers of Gulf America Realty purchased the entire land mass and dredged to make the canals – over 400 miles of them. There were two reasons for the canals: one, their dream of a waterfront wonderland, and two, the practical matter of using the dredge material to build up building sites for the homes and businesses.
The variety of waterfront recreation is extraordinary: pleasure boating on yachts, cruisers, or personal watercraft; sailing; kayaking or canoeing, water skiing; and world-class saltwater and freshwater angling. Read about boating in Southwest Florida here.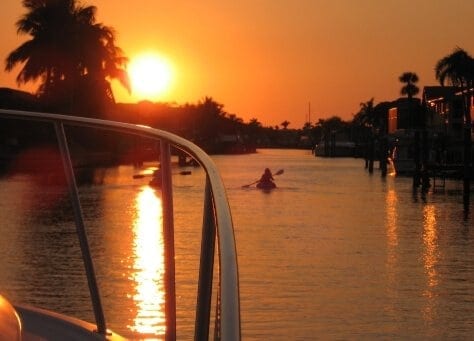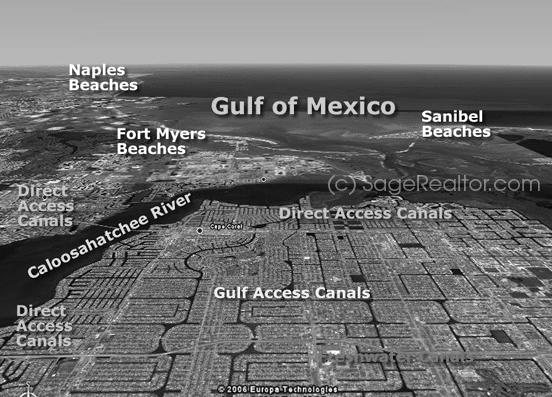 Can we swim in the canals?
Sure, but why would you want to when you have a swimming pool, the Gulf of Mexico, and beaches? The canals are clean brackish water (a mix of saltwater from the Gulf of Mexico and freshwater from the Caloosahatchee River). And there is great fishing in the canals so maybe throw out a line versus diving in. The canals are lively with wildlife – jumping jacks, snook, bottlenose dolphins, manatees – very entertaining. And because it's good fishing, they attract many beautiful birds such as egrets, bald eagles, pelicans, ospreys, and more.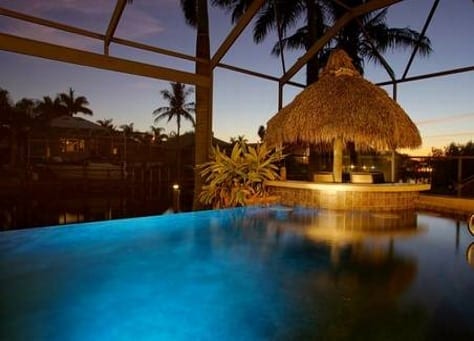 How many retirement communities are in Cape Coral?
Not many. Cape Coral is made up of primarily single family homes on waterfront canals.
It's a boater's city, and boating, fishing, sailing are active adult sports. Taking care of a boat, docking a boat, and being safe on the water are not for the faint of heart or those with limited mobility. Cape Coral does have some 55+ condominium communities (one of the owners must be 55 or better). Most of those are also waterfront.
And yep, we know. Someone dubbed Cape Coral "Cape Coma" back in the day when it really was sort of boring. But those days are long gone – as in 10+ years ago long gone. Now, Cape Coral is a vibrant city with so much going on it's dizzying. If someone gets bored here, he or she is the type of person that would be bored anywhere.
Many of Cape Coral residents are part time snowbirds that have purchased a winter get-away in this sunny city. And most people in Cape Coral are all about the water – getting out on the river or Gulf of Mexico and having picnic on the boat or area beaches. Cape Coral is ranked as a top place to retire in the United States by several national organizations.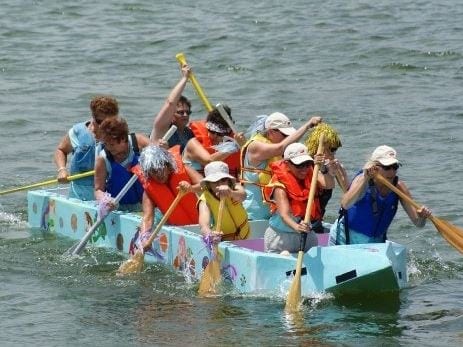 Are there dolphins in the canals?
Yes and what fun that is. Bottlenose dolphin like to chase schools of fish on an incoming tide into the saltwater canals. They might spend hours outside your backyard playing and feeding. We promise you that never gets old (and you don't have to go to Orlando to appreciate these playful, mesmerizing creatures).
These amazing creatures can be seen swimming in the canals and waterways throughout the city and are an important part of our local ecosystem. Did you know that dolphins in Cape Coral are often seen hunting for fish in the canals and even swim right up to the docks to catch their prey? We're in awe of their acrobatic displays and unique signature whistles that they use to communicate with each other.
Let's also remember that dolphins in Cape Coral are protected under the Marine Mammal Protection Act, which prohibits harassing or harming these animals in any way.
Are there alligators in the canals?
No, and yes. Alligators are freshwater lovers so there are some in the freshwater canals and lakes in the middle and northern part of the city. Spotting an alligator is not a common site in the canals. But golf courses? Definitely more likely to see one there. Also, alligators are not very good at climbing seawalls, just sayin. The Gulf Access canals are comprised mostly of saltwater and so alligators are not in those canals. Occasionally one gets lost and turns up in a saltwater canal, but it's a rare day when that happens (poor little lost fella).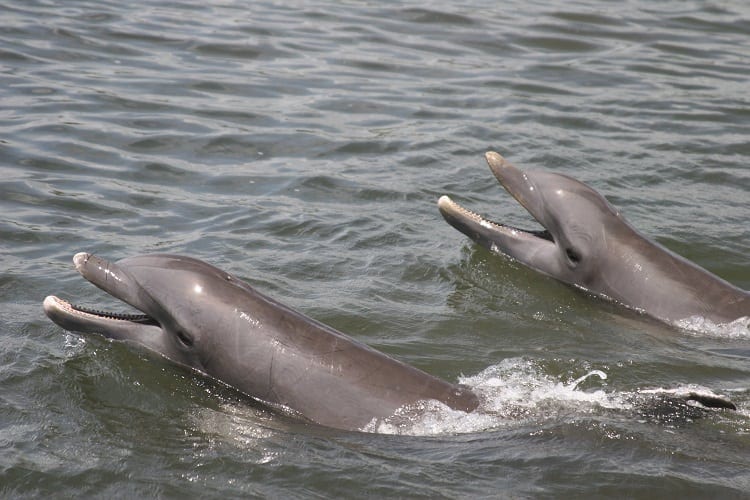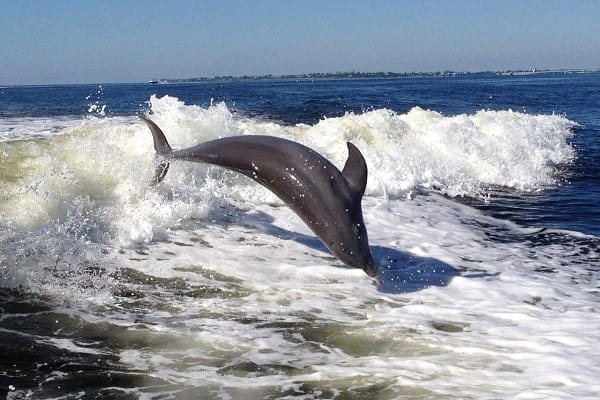 Why do homes have those things called cages (screen enclosures)?
The screen enclosure, sometimes called a "pool cage" usually covers the entire back of the home's pool and patio, or lanai, area. Not only does this keep dirt and palm fronds out of the pool, it makes for an indoor-outdoor living space. In Southwest Florida, we open up all the windows and doors in the winter. The screen enclosure keeps out the mosquitoes and no-see-ums. On a 60 degree night, it's nirvana for sleeping: a nice cool Gulf water breeze throughout the home.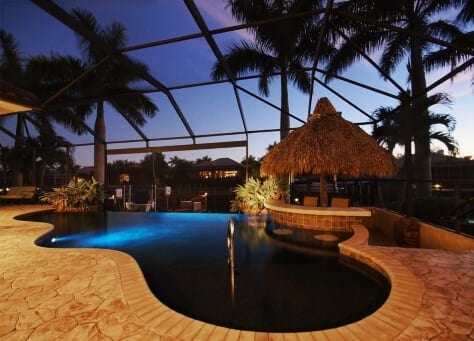 What does "under air" mean when I'm looking at Cape Coral homes for sale?
In local Southwest Florida MLS listings, there are two measures of a home's square footage. The first is the area "under air" (the portion of the home that is air conditioned and heated). A newer 3 Bedroom, 2 Bath home in the price range of $275,000 to $500,000 typically is 1500 to 2300 square feet under air. Property taxes are based on the under-air square footage (a good thing!). The second measure is the total living space. This total adds the lanai, pool, patio, and garage.
The lanai and pool area are almost always screened (or "caged") for 24 hour, 365 days a year comfort, keeping out the pesky mosquitoes and no-see-ums that show up at dusk in the summer. An under-truss lanai (pictured here) is a 4 season room that is either used for dining or as an outdoor living room.
Here in Southwest Florida, our living space most definitely includes the lanai and pool/patio area. It's where we spend the majority of our time. Total square footage is the better measure for evaluating a property. A large pool and patio area and/or a large lanai adds significantly to the property's value and marketability. Consumer sites such as realtor.com pull in the first measurement, the under air square footage, which can be confusing to shoppers comparing living space in a northern home to living space in a Florida home.
Case in point, after browsing homes on the Internet, a couple from Minnesota presumed they'd be looking at small living spaces. Needless to say, they were amazed at how much true living space there is. The home they purchased has 3 bedrooms, 2 full baths, and a 2 car garage. It's 1800 sqft under air but overall has 3700 sqft total living space – remember our outdoor space is 365 days a year. Their patio area has room for an outdoor living room, outdoor kitchen (or four-burner-TV-chef-style-barbecue), outdoor dining for eight, and several chase lounges.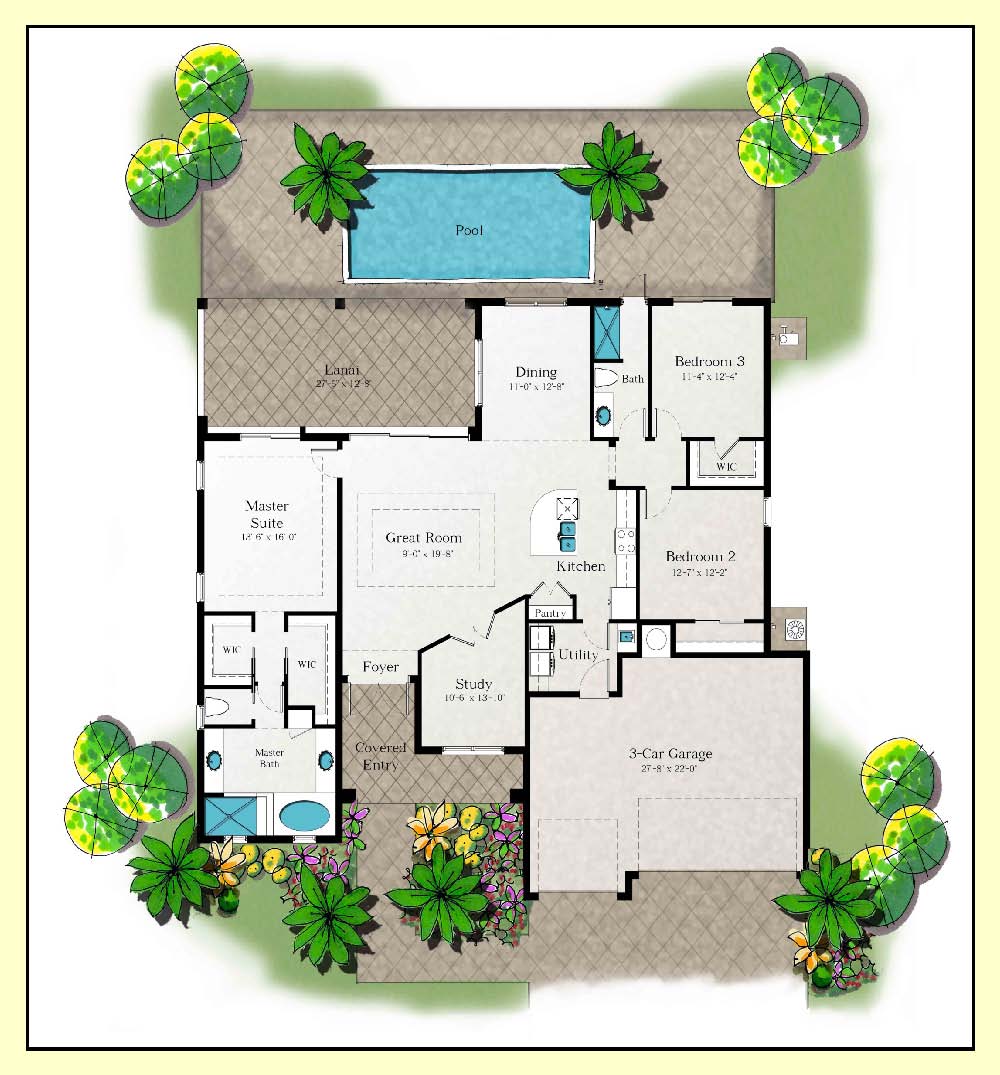 Do the homes in Cape Coral have basements?
No, and we don't miss those dark, clutter-sponges. Not to mention we don't miss taking stairs to the laundry. Most homes in Cape Coral are single story and range from 1200 square feet to 5,000 square feet.
What is the weather like?
Cape Coral has a subtropical climate; it is what many call paradise. The most popular time of year is October through May, when there are warm days and cool nights. The average annual rainfall is just over 52 inches with June to September being the rainy season. During the rainy season, an afternoon shower rolls in, rains for about an hour, and then a wonderful evening follows. The winter months are the dry season, during which we sometimes go for weeks without a drop of rain. Summer weather is humid but temperatures rarely go above 90. People in Cape Coral are very spoiled with an average of 355 days of sunshine. No winter blues here.
85
Average High Temperature
54
Average Low Temperature
What does Sailboat Access mean?
Sailboat access, sometimes called "direct" access, is one of the most desirable locations for boaters. The term is referring to mast height on sailboats – for the most part, there are no bridges that restrict access to the Caloosahatchee River and the Gulf. Because there are no height limitations, sailboat access canals are ideal for bigger boats. So if you are planning for, say, a 40′ cabin cruiser now or in the future, a sailboat access area is where you should invest now. These properties are generally closer to river (5 minutes to 30 minutes is typical).Sailboat access might refer to a property on a canal or a marina. Because they are in-demand properties (and because the supply is shrinking), they are priced higher but also tend to have the fastest and highest appreciation.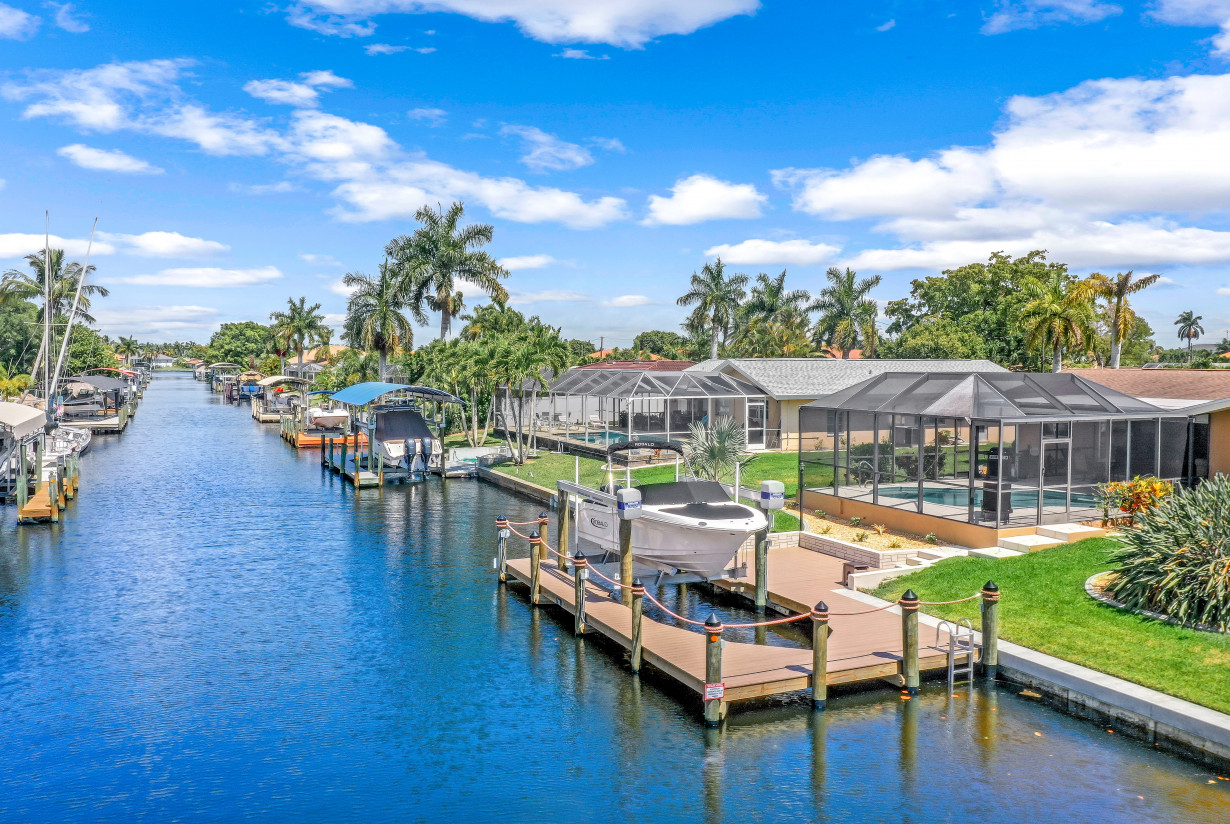 What does Gulf Access mean?
Gulf access canals and lakes are also very popular. This type of access means you can boat to the River and Gulf of Mexico, but there are some limitations on boat size, typically the height of your boat. Gulf Access canal routes have one or more bridges to the Gulf with clearance of 8 or 10 feet at mean high tide. So boaters living on Gulf Access canals typically have boats that are 28' or less.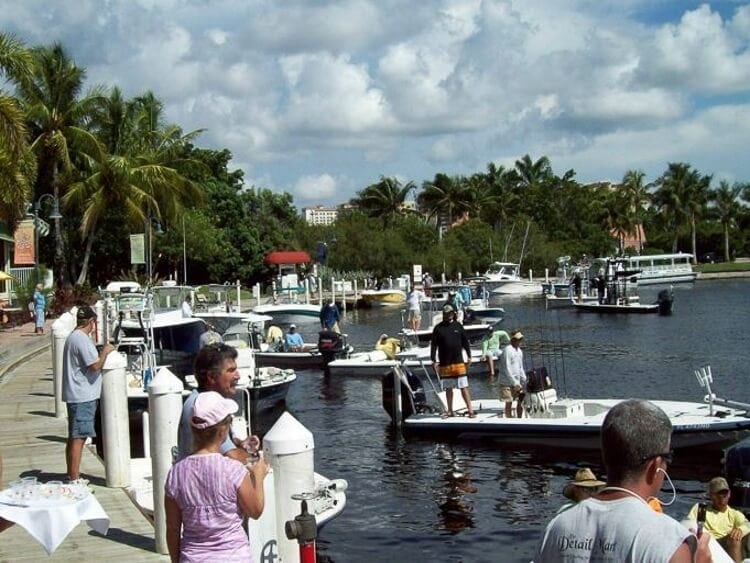 Where Do People Go by Boat?
One of the reasons Southwest Florida is so popular for boaters is that there are endless destinations for day cruising, anchoring, or overnights at marinas. And of course, the aqua blue waters of the Gulf of Mexico, the white sand beaches, and the pristine waterfront and beach front parks are also cherished. We have compiled here a list of over 20 of our favorite boating destinations. Learn about Southwest Florida Boating Destinations here.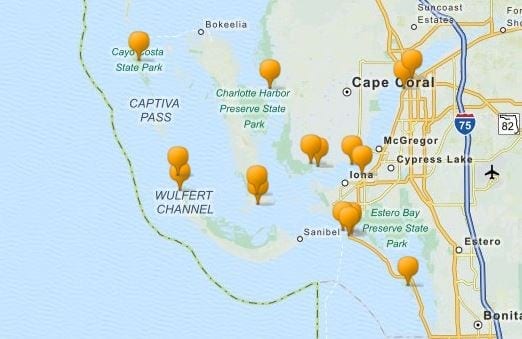 What's with Those Crosses in People's Yards?
Snowbirds aren't the only ones who find a home in Cape Coral to be paradise. In Cape Coral, we are particularly fond of our burrowing owl residents, who provide us endless enjoyment and entertainment and can be easily viewed from our own backyards. Those crosses you see serve as perches for the owls. Burrowing owls are so named because they live in underground holes dug they dig in our soft sandy soil. A burrow can be up to 10 feet long and 1-3 feet deep. Burrowing owls are most active during Spring. And,unlike other owl species, burrowing owls are active during the day.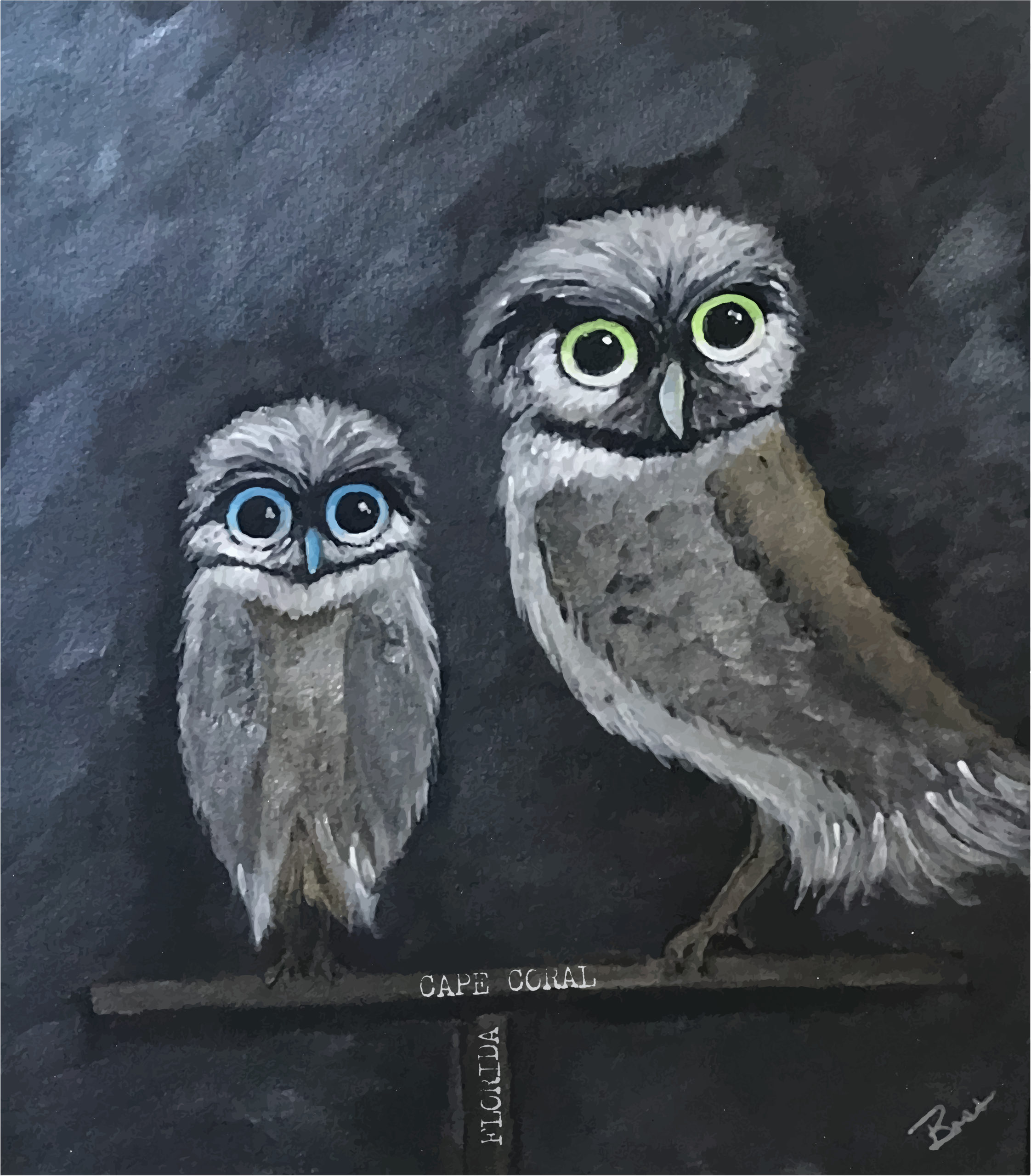 How big, or little, is Cape Coral?
At 115 square miles, Cape Coral is the third largest city in Florida by land mass. But that does not mean heavy density like it does on the east coast of Florida or a bit further south in Naples. Most of those square miles are single family homes. So the population of approximately 150,000 is spread out across many miles with shopping and entertainment hubs disbursed throughout.