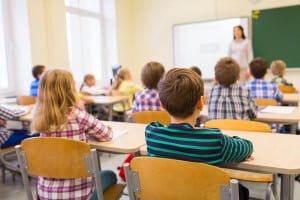 Before you make your move to Southwest Florida, it's important to consider which school fits your family's needs. There are hundreds of SWFL schools to choose from. From esteemed public schools to intimate private institutions, here's a snapshot of the education dynamic in Southwest Florida.
Lee County Public Schools
Lee County School District is the 33rd largest school district in the United States. The district educates students preK-12 at 120 different public schools sprinkled throughout the Cape Coral-Fort Myers Metropolitan Statistical Area. Included in this district is Sanibel School, a National Blue Ribbon School of Excellence.
Biggest cities: Cape Coral, Fort Myers, Sanibel and Bonita Springs
Total enrollment: 76,714
Graduation rate: 75.2%
Lee County Private Schools
Southwest Florida Christian Academy is a Fort Myers-based private school affiliated with McGregor Baptist Church. The school opened in 1994 and currently enrolls roughly 500 students K-12. SFCA is a dually accredited institution.
Maimonides Hebrew Day School is the only full-time Jewish school in Southwest Florida. In addition to core curriculum, students learn how to read, write and speak in Hebrew. MHDS enrolls students from various Jewish backgrounds. This private school is located on Winkler Road in Fort Myers.
Canterbury School is a preK-12 nonreligious private school located in Fort Myers. According to the school's headmaster, Canterbury operates under four primary principles: academics, leadership, character and service. The school currently enrolls 620 students with an average class size of 16.
These are just some of the 49 private schools situated in Lee County. Click here for a complete list of Lee County private schools.
Collier County Public Schools
Collier County Public Schools populate the Naples-Marco Island Metropolitan Statistical Area. The district holds roughly 50 preK-12 schools. Additionally, Collier County offers career and technical schools for adults. CCPS emphasizes the importance of academic excellence and rewards students with plenty of advanced placement opportunities.
Biggest cities: Naples and Marco Island
Total enrollment: 46,270
Graduation rate: 82.1%
Collier County Private Schools
Community School of Naples is a nonreligious private school educating students preK-12. The school enrolls over 800 students with a student-to-teacher ratio of 8:1. CSN focuses primarily on preparing students for success in college.
Naples Christian Academy is a National Blue Ribbon School circa 2007. The preK-8 institution has been operating since 1973, teaching students the importance of faith along with a balanced education. Class sizes range from 13-20 students.
Seacrest Country Day School, located in Naples, is a nonreligious preK-12 school. Seacrest welcomes students from Collier and Lee counties but limits its faculty-to-student ratio to 9:1. 2015 Seacrest graduates were awarded a cumulative $2.9 million in scholarships.
There are a total of 30 private schools in Collier County, 60 percent of which hold a religious affiliation. For a full list of religious and nonreligious private institutions, click here.
Learn more
Finding the right school for your family can be overwhelming. In Southwest Florida, education options are endless. To learn more about SWFL schools and which neighborhood is right for you, contact Dave and Brenda of Sage Realtor Group at 239-896-8549.