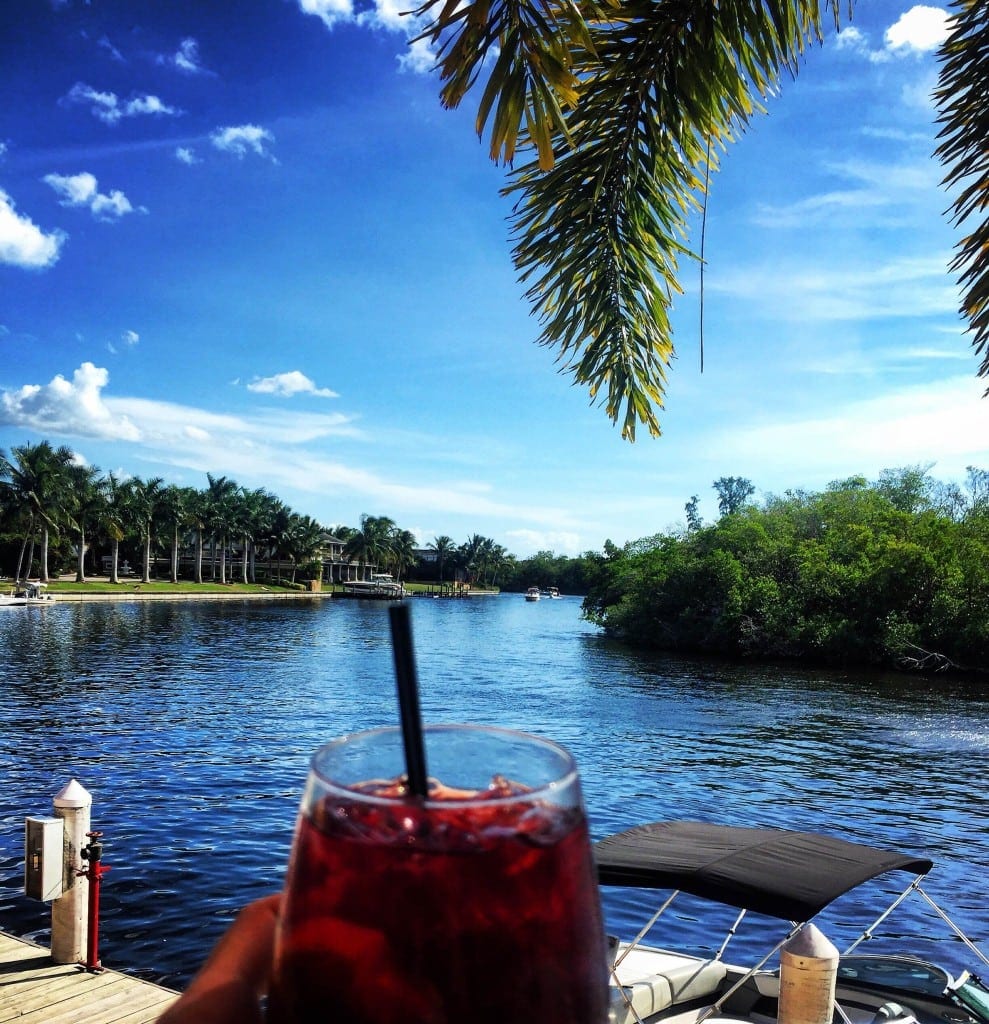 It's another perfect day at Southwest Florida's Cape Harbour community. A walk along the canal exposes miles of seamless wilderness off in the distance. The sun's making its sly descent underneath the mangrove trees, illuminating the water with tropical hues of subdued sunshine. As the calm and quiet day comes to a close, live music picks up in the cobblestone courtyard. This is life at Cape Harbour.
Cape Harbour, located off Chiquita Blvd. South, is one of Cape Coral's premier yachting neighborhoods. With dynamic nightlife, fine dining and scenic views, this resort-style community provides everything you need in one charming area. If you're not convinced yet, below you'll learn why residents of the Cape Harbour community love living there.
A Boater's Paradise
Cape Harbour sits off marker 92, just 3.5 miles from the Gulf of Mexico. Store your vessel at one of the marina's 76 outdoor boat slips. Each wet slip accommodates boats from 35 to 65 feet. And for smaller boats, opt for indoor storage at The Boat House. Either way, a fun day on the Gulf is just a few miles away. On your way out of the marina, keep an eye out for dolphins, as they frequent Cape Harbour's canals.
Dining & Nightlife
Start your morning with a hot cup of joe from the French Press, the Cape Harbour coffee shop and hangout. The café's elaborate selection of craft coffees combined with its cozy ambiance make it the perfect place to start your day. For fine dining or an eclectic cocktail, visit Rumrunner's, located right on the waterfront. Take your pick from the spacious dining room or the scenic patio. Oh, and did we mention the restaurant hosts happy hour seven days a week? And to get your live music fix, stop by Fathom's on Tuesdays and Fridays. This casual outdoor bar and restaurant features a wide variety of musicians that'll have you tapping your feet in no time.
The Cape Harbour Community
Cape Harbour caters to all tastes and price ranges. Take your pick from villas, condos or single-family homes, all plotted amid a 7,000-acre nature preserve. No matter which accommodation you choose, you'll enjoy the private community pool and clubhouse. The clubhouse is fully equipped with a fitness center, tennis courts, basketball courts, full kitchen, pool and showers. As a Cape Harbour resident, you have everything you could ever need – all within walking distance.
What Cape Harbour Residents Say…
Landon Hatfield, a 24-year-old Cape Harbour resident, loves the community's walkability score combined with its dynamic nightlife. "It's great having everything close by," he said. "Entertainment, food and nature are all just a footstep away." Landon lives in one of Cape Harbour's waterfront high rise condominiums.
Do you want to live at Cape Harbour?
Living at Cape Harbour is like a permanent vacation. To inquire about available properties in the Cape Harbour community, contact Dave and Brenda of SageRealtor Group at 239-896-8549.
Click here to browse current Cape Harbour real estate listings in Southwest Cape Coral.