Great Bundled Golf in Fort Myers – Colonial Country Club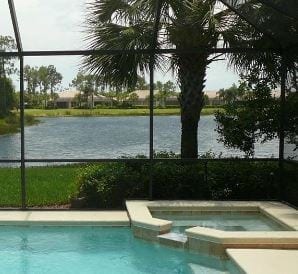 Colonial Country Club is one of our favorite golf communities in Fort Myers. Just driving into the community is takes your breath away. The grounds are so beautiful with native plants, annuals, walking trails, the golf course, and so well maintained.
Colonial Country Club is a gated development that offers a variety of real estate choices, including single family homes, condos, carriage homes and villas. The variety of home styles is one of the reasons we like this community – there are options for many budget ranges. Additionally, it's one of the best bundled golf course communities in Fort Myers. The development is divided into social membership and golf membership properties, which appeals to different types of residents and levels of golf play.
Every home or condo in Colonial Country Club includes a social membership (sometimes called a sports membership). This membership includes access to the 18,000 sq. ft., clubhouse, offering many great activities for residents of all ages to enjoy. Social members can take advantage of pay-as-you-play golf. In select subdivisions within the community, bundled golf membership is conveyed with the property and included in annual dues.
Amenities include tennis, walking trails, resort style pool at the clubhouse, satellite pools through the community, fitness, and an active social environment with resident card clubs, crafting clubs, car enthusiast clubs and more.
Last but not least, Colonial Country Club is pet friendly. Many home buyers want to bring their furry friends with them if they relocate or if they are here on a seasonal basis.
If you are looking for a golf course home in Southwest Florida, Colonial Country Club is a great community to learn more about. Contact us via phone or email to get started searching for the perfect golf course home or condo for you.
If you are looking for golf homes for sale in Southwest Florida, Colonial Country Club is a great community to explore. Browse homes in Colonial Country Club using this interactive Google map search: