Considerations Before You Start Condo Shopping
We have a lot of condo buyers and some are initially a bit overwhelmed trying to decide which type of condo is best for them in Southwest Florida. There are so many options… Beach? Golf? Boating? What about Rental Policies? Property Management? This issue is our quick-reference to key condo community features and considerations.
Location, Amenities, and View
The first step is determining which type of view and location is the Priority for you. We emphasize priority because you can always drive to the beach or a golf course or a marina or boat ramp.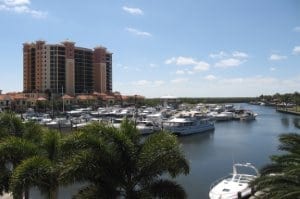 So if you choose a beach location, you still can go boating or golfing, it's just that the boat/golf course is not in your backyard. Likewise, if you are an avid boater or angler, but just a casual golfer, then your Priority is likely a canal waterfront property more so than one with a golf course view.
In the interest of keeping it simple, we'll generalize that there are three classifications of condominium properties:
Planned gated communities: There are many gated communities that offer a wonderful blend of all the amenities many condo-shoppers are looking for: golf, tennis, clubhouse, fitness rooms, and so on. These communities are a mixture of single-family homes, villas, and condos. Some also have marinas, boat storage, and on-premise restaurants. In this category, most waterfront views will be of the Caloosahatchee River, Charlotte Harbor, or a large lake-like saltwater basin (typically the views are best from the 4th floor or above).
High-Rises: In Southwest Florida, the majority of high-rise condo towers are found: a) in downtown Fort Myers along the Caloosahatchee River, b) on the beaches of the Gulf of Mexico (Fort Myers Beach, Bonita Beach, Naples), and c) in some planned gated communities (examples are Tarpon Point and Cape Harbour in Cape Coral, Gulf Harbour and Mastique in Fort Myers, and Burnt Store Marina in Punta Gorda).
Smaller condo complexes: Smaller complexes, say with 100 total residences or less, are available both in centrally-located areas such as central Fort Myers, and also along waterfront (canals, river, Gulf). Typically in-land condo sites have tennis, clubhouse, and often also golf. There are also small waterfront complexes on canal systems, often with boat docks. And on the beaches, there are large corporate-owned condo-hotels and small owner-association operated condo-hotels.
Condominium Price Points
Price is also of course a key consideration. There are very nice options in the $275K – $400K range (we just purchased a Gulf Access condo for investment for under $300K).The majority of options are in the $400,000 – $600,000 range. Luxury condos range from $700,000 to $4 million, plus.
Condos With Boating & Gulf Access
For boater's there are several considerations with respect to the boating/water access options. Planned, gated communities with marinas offer slips for rent or for sale, often both wet and dry (rack storage) slips. Rental rates average $11 per foot, per month.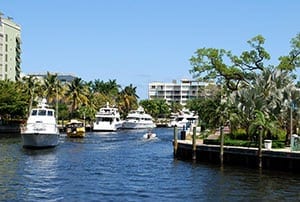 Condo complexes situated on canals have dock space that is available one of three ways: deeded, where the dock space is legally attached to the condo unit, assigned space, and first come first serve. Also a consideration is whether or not the association will allow the installation of a boat lift. The ideal scenario for convenience of the owner and future value is a deeded dock, with a lift already in place. But first-come-first-serve dock space is common, and we rarely see these docks full, meaning that docking rarely seems to be an issue for the residents of the complex.
Condominiums on Golf Courses
If your priority is golfing, it will be no surprise that there are many golf communities in the area. Some surround semi-private or public courses. Others are entirely private and may require golf membership and/or a social membership (such as Gulf Harbour or The Legends).
Seasonal Rental Policies in Condominiums
Most condo associations have a rental policy. Rental policies have two parts: maximum number of leases per year and minimum days lease.
So for example, a "4-90" policy means 4 times per year or minimum 3 month lease. The 4-90 or similarly restrictive policies are good for owners who don't want to be in a community with turnover in tenants.
Perhaps the most common rental policy is 12-30, meaning 12 times per year, minimum of 30 days. It is not difficult to find seasonal renters who stay for a month or more.
Also available are condos with weekly or bi-weekly rental periods allowed. And finally, there are "condo-hotels" that allow nightly rentals. Condo-hotels typically have on-site rental management and are operated just like a hotel with respect to check-in/check-out, cleaning schedules, and so on. Most condos on Fort Myers Beach and Sanibel island are operated as condo-hotels, as well as some condo towers in planned, gated communities such as the Vista del Sol tower in Burnt Store Marina.
Property Management & Rates
In SW Florida, property management firms that handle seasonal rental units are plentiful. The choice of firm primarily depends on the location of your property—firms specialize in areas (Cape Coral, Punta Gorda, Fort Myers Beach, Sanibel or communities, such as Gulf Harbor, The Landings, and Burnt Store Marina). Some communities have on-site property management while smaller condo buildings do not.
We tend to prefer property management firms that have connections with European customers, as they can also find renters during off season. There are many tourists from Germany and Briton during the summer months, for example, which extends the rental revenue opportunity beyond the typical "high season" of January through April.
An additional factor is how hands-on you want to be in the rental process. Absentee owners typically prefer to have the property manager do everything: marketing and advertising, collecting security deposits and payments, getting contracts signed, checking in/out the tenant, paying operating bills, arranging cleaning, and handling repairs. Fees vary according to the level of service and type of contract (e.g., exclusive or non); figure at least 10% of the gross rent for weekly/monthly rentals and as much as 45% of gross rent for condo-hotels.
While we don't claim to be property rental experts, a 3/2 condo with a great view can earn $2800-$3800 per month. Smaller condos about $2300 per month. Penthouse condos or single family pool homes rent for $4000 month and up.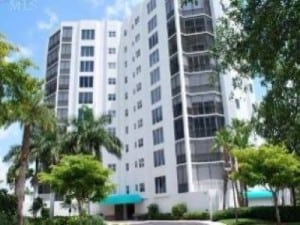 Pools, Furnishings, Pets, Etc.
Pools: Nearly all condo complexes have a community pool (if not several pools). Some also have common outdoor dining areas, tikki huts, and fishing piers.
Furnishings: Condos or homes that are currently being seasonally rented typically are sold furnished, either "turnkey" (furniture, electronics, linens, dinnerware/cookware), fully furnished, or partially furnished (varies as specified in the contract).
Association fees: The fee, when due, and the services and amenities they cover. Typically, the association fee minimally covers exterior maintenance, structure insurance (not contents), water/sewer, cable, trash, and association management.
Housing for older persons: As in other metro areas, some condo associations are 55+ communities. There are more non-55+ than there are 55+ communities.
Pet policies: Either none allowed, limits (usually a weight/size limit) or anything goes; some associations allow owners to have pets, but not renters.
Condo doc review: By Florida law, a buyer has 3 days from receipt of documents to review by-laws and can rescind an offer if anything stated in the condo documents is not satisfactory to the buyer.