The first consideration that you should make when choosing a home to purchase and rent out seasonally, is whether or not the home offers potential renters a true Florida lifestyle. Many buyers of Southwest Florida homes want to enjoy the home now, but also rent the home seasonally to offset expenses. It's a good strategy whether you are considering a single family home in the Lee County area, or a condo purchase in Southwest FL.
People that choose to spend their winters in Florida typically do so for one major reason: to enjoy the warm weather, sunshine, and proximity to water. With this in mind, any prospective purchaser searching for a home that will rent well seasonally should start by asking themselves the following questions: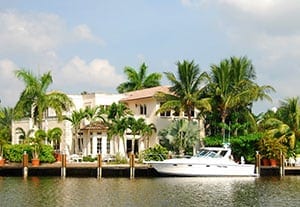 Does the home offer a view? People vacationing to Southwest Florida are far more likely to rent a home that offers a stunning view of the Gulf of Mexico or a well maintained golf course than one which overlooks a parking lot or mall. And with plenty of saltwater and freshwater lakes and canals throughout Southwest Florida, finding a home or condo with a great view is actually easier than you think.
What kind of sun exposure does the home offer? One of Southwest Florida's biggest attractions is the sunshine, after all, this is the "Sunshine State." However, not every home in Florida receives the same amount of sunshine, and the direction from which the sun is hitting the rear side of your home can be extremely important. Most people will prefer Western rear exposure because of the warm afternoon sunshine and beautiful evening sunsets. Southern and Eastern exposure can also be quite nice, especially for morning people who like to feel the sun as soon as they wake up. Northern rear exposure, on the other hand, is generally to be avoided as it provides little direct sunlight and warmth during the day, which can be especially problematic for homes with pools.
Does the home offer outdoor living spaces? People vacationing to Southwest Florida often intend to spend as little time indoors as possible, but may still want to spend time at home entertaining friends and guests. In Southwest Florida, outdoor living spaces are essential and homes that come with these areas included will certainly be rented far easier than the competition. Big lanais are great, especially ones that have pools for the kids to play in but also shaded areas for the adults to gather and drink or dine. If you're purchasing a home that you intend to rent out seasonally, the home should at least have enough space in the backyard so that an entertainment space can be added at a later date. On the other hand, if you are instead purchasing a condo, the condo's lanai or balcony should have at least enough space to fit a small table and a couple of chairs.
How close is the home to local beaches? Anyone who vacations in Southwest Florida is almost guaranteed to be spending a lot of time at the beach, and the fewer steps one has to take to reach those beaches, the better. Homes or condos located directly on the beach will understandably go fast, but even a home that is within walking distance or a short bike or car ride to any of the local beaches will prove popular, especially for vacationing families who want to stay active in the water.
Does the home offer boating access? Not everyone who vacations in Florida owns a boat, but for those that do, you can be sure that they will want to make use of it during their time in Florida. Even those who aren't boat owners themselves have plenty of options available to them for renting during the time they spend in Florida. Homes that are equipped with their own private dockage, especially on the saltwater canals of Cape Coral with Gulf access, go quickly and are often rented a full year in advance. And even if the home doesn't have its own dock directly in the backyard, a home with close proximity to a nearby public marina can also be a strong selling point for potential renters interested in boating and fishing.
Once you're sure that the home or condo you are considering purchasing will appeal to people vacationing to Southwest Florida, you can start to think about some of the more technical aspects of the home. Some questions to ask yourself regarding amenities include: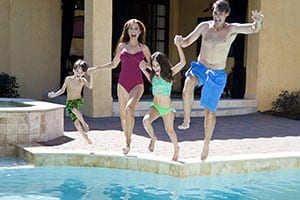 How many people can comfortably sleep in the home or condo? Any home or condo that you purchase for seasonal renting should have a minimum of two bedrooms, but the more the better. A home is more likely to rent if it is able to accommodate families or groups of multiple sizes, and a home that has a little extra room will be much more appealing than one which has too little. It's important to note that how many bedrooms a home has is not often the same as how many people that home can "sleep," so consider whether there are any additional spaces, such as a home office or den, which can be converted into a bedroom or sleeping space during the months when you are renting the home out.
What kind of parking is available? Many people who visit Florida for more than a week or two at a time will bring their cars with them or rent a car locally during their stay. And because the sun in Southwest Florida can be extremely strong during the day, covered parking can be very important to some. In this sense, a home or condo that has a carport or enclosed garage will be far more appealing to potential renters than one which does not.
Will there be any noise concerns? While the lifestyle in Southwest Florida is typically one of relaxation and leisure, there are some areas that tend to get fairly noisy and "busy." While visiting these areas for daytime activities or to experience the local nightlife is absolutely recommended, purchasing a home in these areas, especially a home that you plan to rent out to vacationers, is not. With this in mind, avoid homes that are near busy intersections or high traffic areas, and also avoid homes that are near fire/police stations or hospitals with emergency rooms. Many people who spend their winters in Southwest Florida are from an older generation, and if they have any noise concerns, a home in a louder neighborhood can definitely be a deal breaker.
What kind of amenities are available nearby? If you are considering purchasing a condo or a home in a gated community, you'll want to take into account what amenities are offered by the community itself. The more amenities the better, often including such things as a community clubhouse for entertaining, public pool, golf course, tennis courts, and walking or biking paths. If you are purchasing a home that is not located within a larger community, you'll want to think about the amenities that that individual home has, such as a nice backyard with a pool and an outdoor grill already set up for BBQ's. In addition, you'll also want to take into account the location's overall convenience – is it close to the beach, grocery stores, and shopping?
The last thing that you should consider when purchasing a home or condo to rent out seasonally is whether or not the home comes attached to any specific policies or restrictions – either set by you or by the community as a whole. Some possible restrictions that might apply include:
Pet policies. A young family visiting Florida for a week is more than likely to leave any pets they have at home, however, a couple or family spending their entire winter in Southwest Florida is probably going to bring Fido or Fluffy along for the trip. For this reason, many potential renters will require a home or condo that allows pets. If you aren't part of a community, it's entirely up to you whether or not you want to allow pets, and you can even make the decision on a case by case basis. If you are in a gated community or condo complex, this will not be your decision and you may want to consider whether a home that does not allow pets will be too limiting for you.
Age Restrictions. If the home you are purchasing is a condo or in a gated community, then that community may have its own set of age restrictions, specifically if it is a community geared towards retirement. Many older folks who spend their winters in Florida do so for the peace and quiet, and will likely not want to share close quarters with the Spring Break college crowd or families with small children. If this is okay with you, then age restrictions should not matter, but if you are willing to open up your home to families of all sizes and people of all ages, then age restrictions can be very limiting.
Rental policies and restrictions. If your home isn't part of a larger community, you will generally be able to rent it out when you want, to whom you want, and for as along as you want. If your home is a condo or in a gated development, these things will actually be decided by the management association and restrictions can be somewhat strict. Some limitations include how many times per year you can rent your property, for how long you can rent your property each time, and if you are even allowed to rent out your property at all. If you are considering a condominium, check out our Condo Buying Guide.
Once you have purchased your dream home in Southwest Florida, next look to furnishing and provisioning your home so that future renters have access to all the entertainment options and vacation equipment they will need. This includes necessities like dinnerware, silverware, and cooking utensils, as well extras like beach chairs, umbrellas, and coolers so that they can make the most of their experience in Florida.
When you are ready to make the move to Southwest Florida, contact David and Brenda of Sage Realtor Group at 1-239-896-8549. Whether you are looking for a home to rent out seasonally to vacationers or a home that you can personally enjoy year round, David and Brenda are the Cape Coral realtors you can count on to secure the perfect location to suit your lifestyle.
Related:
Considerations for Renting Your Southwest Florida Home
 Cape Coral Real Estate – Learn About Cape Coral Homes For Sale and About the Community
Fort Myers Real Estate – Learn about Fort Myers Homes for Sale and About the Community
Fort Myers Beach Real Estate – Learn About Fort Myers Beach Condos and Homes for Sale and About the Beach Lifestyle