Cape Coral Direct (Sailboat) Access Residential Lots are Getting Harder to Find
Should You Consider Buying an Existing, Older Home and Tearing it Down?
Most of our clients that are thinking about building a new construction home start by looking at the existing vacant land inventory. And that inventory is shrinking ever more so. This article is an excerpt from an in-depth case study where our clients "B and K" built two homes – the first on a vacant lot and the second on a premium parcel that had an existing, older home that was torn down.
Going in, B and K had the expectation they could find an existing vacant residential lot that met their wish list. We began the search focusing on oversized lots, ideally with 120' or more of seawall. And once again, we walked lots, compared prices and features (lot size, shape), and interviewed builders for the design and construction of their second (replacement) dream home.
The majority of waterfront lots in Cape Coral have 80 feet of water frontage (a standard lot is 80 wide by 125 deep). As B and K already knew, 80 feet of seawall and dockage wouldn't provide a) room for the "fleet" and b) room for a view if their boats could not be tucked off to the side.
An Unconventional Land Search
Meanwhile, on a dual track we started researching tear downs knowing it was unlikely that an existing lot would satisfy B and K (unless something new came on the market which we were ready to jump on, and we knew many other buyers would also jump). A tear down is typically an existing older home that does not have the "bones" or footprint to warrant a hefty upgrade.
Its highest and best use is to return it to a vacant parcel – tearing down the structure to the topsoil and prepping the site for a larger, more structurally sound home using current building codes, materials that meet current codes (such as impact glass), and using contemporary design features and interior finishes.
When B and K started looking years ago, the market was dramatically different. There were many single-family homes on the market, and more importantly, plenty of waterfront residential lots to choose from. But the market had changed considerably. New home construction had been going on all over Southwest Cape Coral for several years, and buyers and builders were snatching up the best Direct Access lots. Those with market knowledge knew there was an inventory shortage of A+ residential land on the horizon.
By now the reader will have guessed correctly that B and K purchased a tear down, on the main canal, minutes to the river, and with 180' of seawall. Here's the structure that was on the lot: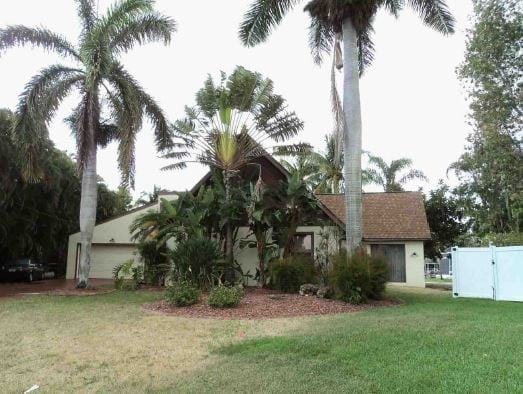 They wanted to be on a main canal with plenty of boat activity to watch from their Tikki hut on the dock or from the pool with a cold one in hand. The canal systems are very social; if you are on a key artery of the canal system you will get lots of exercise waving to the boats as they pass by. 
Demolition Process and Cost
As of this writing, the cost to tear down an existing single family home is about $8,000 to $15,000. 
The process is fairly straight forward since the project is destruction versus construction. The firm hired to do the tear down will take care of all permitting, site inspections, utility disconnects, and will install a silt fence to contain run-off. Along with removing the structure, the site preparation may also include removing trees and grinding stumps. Debris is loaded into roll-off dumpsters and hauled away to waste processing facilities. When the demolition is complete, the contractor grades the site, leaving a level, cleared site that is ready for the builder.
Impact Fee Cost Comparison
With any construction project, there are "impact fees." These are charges the municipality charges to support infrastructure — parks, roads, wastewater, schools and similar. With existing properties, those impact fees have already been paid by the former owner. So the cost of the demolition is offset by not having to pay those impact fees. 
Impact fees on a vacant undeveloped lot are in the range of $15,000 and sometimes more depending on the lot size and location. With a tear down, the fees are permitting related only — about $2,000 – $3,000 in the current environment. So if the demolition costs $12,000 and the impact fee on an undeveloped parcel is $15,000 the tear down cost is par.
Seawalls
Waterfront new construction cannot start until the seawall is in place. In today's environment, installing a new seawall can take a long time — up to one year. Building a seawall starts at the structural design stage and must meet city and state building codes. The seawall contractor manages the intricate permitting process and is also dealing with sourcing specialized materials and qualified labor.   
And so buying a waterfront tear down can have advantages because the seawall is already in place. This can save both money and time. On the flip side, depending on the location, the seawall may be old and in need of reinforcement or replacement (partially or entirely). Technically, since the seawall is already in place, building the new home could begin without shoring up the seawall. However, it's wise to make the investment to ensure the seawall is sound while the lot is vacant. At the very least, the seawall should be inspected by a qualified seawall engineer.
Consider a Tear Down For All the Right Reasons
Because inventory is low, especially in South Cape Coral, tear downs are a good avenue to explore. It can help you find the right parcel in the right location. And it can help you speed up the process without incurring costs above and beyond a traditional vacant lot.