Buying Considerations for Gulf Access Lots
More and more Cape Coral real estate buyers today are looking to build a new construction home rather than buy an existing home. And so the first step is to acquire the land. Once you have your waterfront vacant land parcel purchased, we work with you and the builder to design a home that will best utilize the lot view, shape, and sunshine on the pool. Here are key considerations when shopping for Gulf Access lots. Learn about views, lot shapes, distance to the Gulf of Mexico, and other key factors.
Gulf Access Canal Width
Gulf Access canal widths in Cape Coral range from 80 ft to 240 ft. As you would expect the wider Gulf Access canals have the better views, offer more privacy from your neighbors across the canal and sell at a premium price.
Intersections, Basins, View
Some Gulf Access lots are positioned at points on the canal system where the canals intersect. Intersecting canals or basins provide an exceptional wide view or a long view down a perpendicular canal. These big view Gulf Access lots are in the highest demand and command a premium price. Some Gulf Access lots offer water on 2 sides (tip Lots) which allow the boat dock and lift to be on the side of the home rather than in the back and allowing for an unobstructed view.
Rear Exposure
Many people purchasing Cape Coral waterfront homes quickly learn that the sunshine on the back of the property is a key consideration.
Southern: Generally Southern rear exposure is in the highest demand especially for snowbirds and seasonal renters. Southern exposure provides for direct sun on the pool area all day in the winter months, while also allowing for a shady area under the roof or overhang of the Lanai area.
Western: Everyone loves a beautiful sunset and in Southwest Florida and we are blessed with many. Although romantic, a blazing sun invading the covered lanai area and the rear rooms of the house can be overpowering, even in the dead of winter and downright uncomfortable in the summer. Cruise down any canal at anytime of the year and you will see sunscreen, blinds and even hurricane screens down in the late afternoon on homes with Western rear exposure.
Eastern: Morning sun and sun on the pool until late afternoon, enables a cooler more comfortable cocktail hour on the Lanai. For year round occupancy eastern rear exposure is generally preferred, especially for those who consider themselves morning people.
Northern: This is similar to Southern exposure yet in winter months the roof may block the sun from the pool. On well thought out homes with northern exposure you will find the pool moved away from the house as much as feasible. Homes with Northern rear exposure can be a bit darker inside.
Lot Size/ Shapes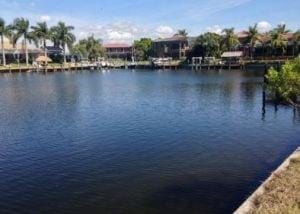 Gulf Access canal lots come in different shapes and sizes, the most common being 80×125. The 80 ft dimension being the water (seawall) and street frontage and the 125 is the depth. Occasionally you will find a lot that measures 120×125, sometimes referred to as a triple lots. Wider triple lots do command a premium as they allow a larger home, more yard space, and have additional waterfront for larger or multiple boats.
At the end or at the beginning of a canal you will find variations. If you drive down a street with canals on both sides the last lots on the culde sac will be oversize, offering water on two sides (200 or more ft of waterfront), or offering a bit more waterfront (usually 100 ft). The lots on the beginning of the street may have limited waterfront, 20 to 45 ft depending on the width of the canal but will usually have larger front yards.
The most spectacular waterfront lots tend to be where large canals intersect offering 140 or more ft on the water and are pie shaped with the larger dimension on the water and a smaller dimension on the street.
Browse current vacant land listings in Cape Coral or continue reading about Gulf Access lot considerations below.
Related:
New Home Construction: A Case Study
Browse New Homes and Homes Under Construction
Boating Destinations in Southwest Florida
Don't Let the New Construction Process Frighten You
At first, some people find the new construction process a bit intimidating. For example, there are so many builders to choose from, how do you know you are choosing a new home construction builder that builds a quality product, meets city and state codes, is financially stable, and can finish the home in a reasonable time? That's where we come in as your buyer representation, just for starters.
Our role is from the early shopping stages through completed construction. We:
Work with you to find and purchase the ideal community and parcel of land

Introduce you to reputable builders that construct the type of home you are considering

Serve as "translators" for you regarding building jargon, constructions materials and options, building codes, permitting processes and more

Facilitate design and pricing sessions with the chosen builder (What are standard options? What are upgrades? What is included in the pool package? How about landscaping?)

Facilitate Home Owners Association introductions and Architectural Review Board preparation (if applicable for the community you have chosen)

Facilitate the contract and specification stages (materials, add-ons, draws, schedules, and so on)

Follow construction progress and permitting stages with on site visits
Many of our clients are building new homes in Southwest Florida but live in remote areas, as far north as northern Ontario for several of our clients. We are the eyes and ears for you whether you are here in town or thousands of miles away.
Read More:
Bridges and Power Lines
Canals that have a bridge are commonly referred to as Gulf Access. Canals without fixed bridges are generally referred to as Sailboat access which is sometimes also called Direct Access. Most if not all of the bridges in this area are fixed and can impact the size and height of the boat that can navigate under (Height Draft). Bridges on Gulf access canals provide clearance of 8.25 ft to 13.25 ft at mean high tide. Depending on the style of boat, most 8.25 bridge clearances will allow for boats in the 24 to 28 range. Some larger boats have articulating tops and radar arches that will also allow clearance.
There are 3 major bridges across the Caloosahatchee River that can affect clearance for larger sailboats with masts higher than 55 ft.
There are a few Gulf Access canal systems in the Cape that have overhead power lines. And are still considered "Sailboat Access" While not an issue for many sailboats, larger boats with masts over 45 ft will not be able to pass. There also is a power line over the western spreader canal at he far west point of Cape Coral parkway that is in the 35 to 40 ft range
Chiquita Lock
The canal systems in the Southwest Cape, west of Chiquita Blvd gain access to the river via a lock at Cape Harbor. The lock is simply a watergate to restrict the flow of water into Pine Island Sound. It is large enough to convey multiple boats at each time, or single boats in the 50 ft range. It takes just a few minutes to go through the lock and is easy for any boater to handle (the water does not raise and lower as on river locks). The locks are operated from 6 am to 10 pm each day and at other times with notification. There are some depth limitations in and near the locks so properties on the canal system north of the locks are not suitable for sailboats with drafts in the 5 ft and plus range.
Cruise Time to Open Water (Caloosahatchee River)
All Gulf Access canal systems in Cape Coral are no wake, so locations closest to the river are at a premium. Most canal front lots in Cape Coral will be 15 to 60 minutes travel time to the river or the Matlacha pass .There are Gulf Access canal properties that are 1.5 hrs or more up the canal systems from the river or the Matlacha pass in the NW Cape.
Time in the River to the Gulf of Mexico
There are more than a dozen entry and exit points for the Canal systems to the Caloosahatchee river. Canal Systems in the far Southwest portion of Cape Coral enter the river at the closest point to the Gulf Of Mexico. From there an additional 30 minutes is required to pass under the Sanibel bridge and enter the Gulf. Entry points in the Southeast Cape can add 5 to 30 minutes more. The Canal System in the Northwest (and far northern part of the Southwest Cape) access the Gulf via the Matlacha Pass and are at least 45 minutes from the Gulf.
Depth and Tidal Actions
Canal Systems and each canal can have varying depths which can also be influenced by tidal ranges and the seasons. Some canals can be as shallow as 4 to 5 ft at low tide, this generally will not be an issue except for larger boats and those with deep keels.
Seawall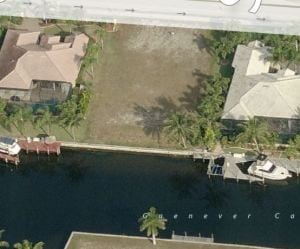 All Gulf Access properties require a seawall when improved (home built). The cost to build a seawall for a standard 80′ lot can range from $15,000 an up. Many vacant Gulf Access lots already have the seawall in place and if so, that is a price consideration for both buyer and seller.
Dock Size
Generally dock size is impacted by the width of the canal and the length of the water frontage. A docks footprint can only extend into the canal 20% of the canal's width, up to 25 ft. To ensure that docks on neighboring properties don't restrict their neighbors, there is a setback which must be met before a dock can extend outward. Properties that share limited waterfront at the end of a canal can present unique problems on size and configuration of the dock and are generally suited only to smaller boats.
Some Gulf Access lots are sold with a dock already installed and perhaps also a lift.
Current Vacant Lot Listings in Southwest Cape Coral

Sorry we are experiencing system issues. Please try again.