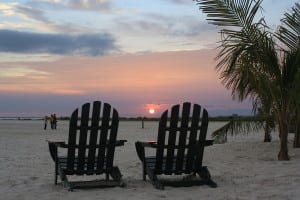 Southwest Florida is famous for more things than one. Find out which one of our cities was voted "best place to live" in America, which of our beaches are the best in the country, and why SWFL is one of the best places to retire. Oh, and did we mention we top the charts for spring break destinations, too? Check out the SWFL rankings here:
Cape Coral is one of the nation's best places to live
According to 24/7 Wall Street, Southwest Florida's canal-clad city is one of the best in the nation. Cape Coral, an aquatic wonderland, was voted 27th (of 50) best city to live due to its booming employment rate. Over the last couple of years, Cape Coral saw an impressive 10 percent increase in employment. Not only does it employ, but it also protects. With crime and poverty levels dipping below the national average, Cape Coral is a safe place to live.
Multiple SWFL beaches are the best in the country
Business Insider knows its beaches, which is why it acknowledged Southwest Florida seaside more than once. According to the popular magazine, Delnor-Wiggins Pass State Park of Naples scored 21st place (of 23) for its gorgeous Gulf views, bird watching and water activities. Barefoot Beach of Bonita Springs ranked 9th for its primitive nature and wildlife viewing opportunities. There's no denying Southwest Florida beaches are both beautiful and abundant.
Cape Coral's at it again as nation's best place to retire
More than one study deemed Cape Coral one of the best retirement cities in the country. The water city scored 8th of 10 in a survey by Bankrate.com and 8th of 25 in an article by Forbes Magazine. Not only does Cape Coral host more miles of canals than anywhere else in the world (including Venice, Italy), but it also boasts a low cost of living. With low crime, low expenses and plenty to do, what's not to love?
Cape Coral and Fort Myers boast low unemployment rate
According to this year's Q4 Manpower Employment Outlook Survey, the Cape Coral-Fort Myers Metropolitan Statistical Area ranks fifth best employment outlook in the nation. The Regional Economic Research Institute supported this data, pointing out Southwest Florida's extreme growth potential. With a 25 percent net employment outlook, Cape Coral and Fort Myers are comfortable places to live and work.
Fort Myers stands out as top spring break destination
Both the Fiscal Times and Business Insider ranked Fort Myers one of America's top spring break destinations. The Fiscal Times calls Fort Myers a fun, family-friendly vacation getaway, voting it 7th of 10. Meanwhile, Business Insider pointed out the city's scenic surroundings, also ranking it 7th of 10. With a booming beach area with plenty of watersports and abundant nightlife, Fort Myers has something for every spring breaker. You won't regret a trip to this upbeat beach town.
Are you ready to move yet?
Southwest Florida is a great place to live for many reasons: beautiful beaches, safe neighborhoods, low living expenses and fun tourist destinations. Are you impressed by these SWFL rankings? Make the move to SWFL to wake up in paradise and enjoy all the perks of subtropical living.
Want to learn more about SWFL real estate? For a smooth move Southwest Florida, contact Dave and Brenda of SageRealtor Group by clicking here or calling 239-896-8549.