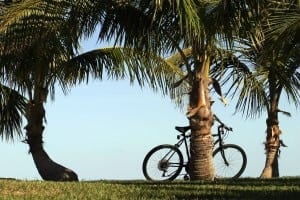 Southwest Florida bike-friendly areas abound due to the scenic terrain and the temperate climate. But recently, one SWFL shines as the most bicycle-friendly. Cyclists, look no further than canal-clad Cape Coral.
Cape Coral is one of the most bike-friendly communities in the nation!
The League of American Bicyclists awarded Cape Coral the bronze distinction as a "Bicycle Friendly Community (BFC)." The organization recognized Cape Coral's 90 miles of connected bike and pedestrian paths. Cape Coral is one of only 351 bike-friendly communities in the country, making this designation a true honor.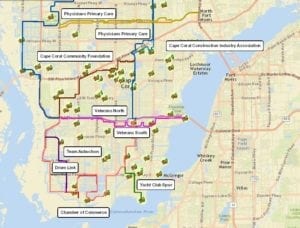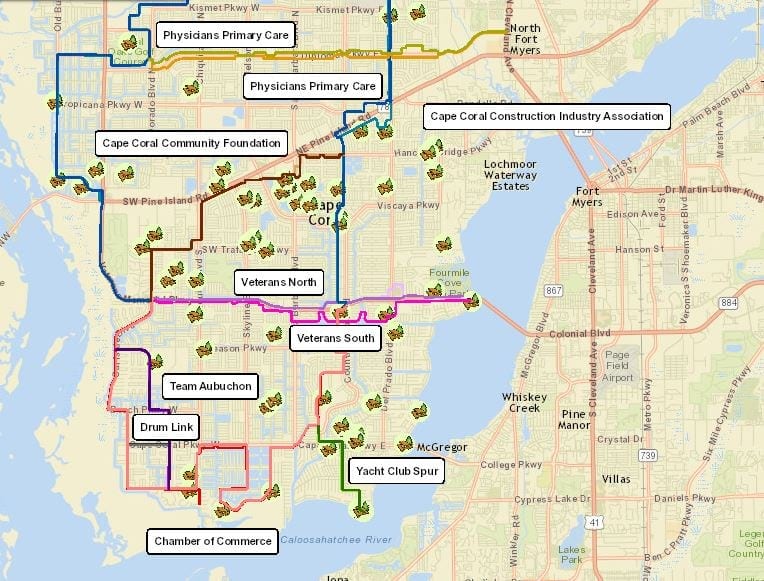 And the Cape has no intentions of losing that honor. In fact, the city is already working toward the silver level bike-friendly community status. According to Cape Coral's mayor, Marni Sawicki, the community will continue to create a fun, safe, family-friendly bicycling atmosphere.
Where to bike in the Cape
With ten suggested routes, the city of Cape Coral makes sure every cyclist has a course. For a short and scenic ride, start off at the intersection of Palm Tree Blvd. and Country Club Blvd. Follow the designated bike paths down to the Cape Coral Yacht Club, where you'll be rewarded with beautiful panoramas of the Caloosahatchee River. Just under three miles one-way, this is a great ride for the whole family. For a more strenuous route, take to the Cape Coral Chamber of Commerce route, which takes you over 17 miles past quaint Rotary Park and the gorgeous Matlacha Pass National Wildlife Refuge. All ten routes connect so you can ride for days if you want to. To learn more about Cape Coral's interconnected bike routes, click here.
Bicycling events in the Cape
Tour De Cape is Cape Coral's yearly bicycling event with routes varying from 15, 30, 60 and 100 miles. January 2016 marks Tour De Cape's 25th anniversary ride. The fun departs from Cape Harbour and lasts all weekend. This family-friendly event welcomes children with a 5K kids ride.
For year-round cycling, consider joining the Caloosa Riders Bicycle Club, which boasts over 400 organized rides per year. The group started riding together in 1988 and since grew into a 300-member cycling club. Their rides take off every week from Cape Harbour and Pelican Park, not to mention other surrounding Southwest Florida cities.
But that's not all Cape Coral does in way of celebrating its rich bicycling culture. Local businesses like Cape Coral Brewing Company organize bike clubs, where members can participate in leisure or long-distance rides. Cape Coral Brewing Company's bike club rides every Saturday morning with bike trips ranging from 5 to 40 miles.
Other great Southwest Florida bike-friendly spots
In addition to bike-friendly Cape Coral, Sanibel and Captiva Islands are great areas to ride bikes. With various rental shops scattered throughout the islands and plenty of bicycle-specific paths, riding a bike is fun and easy. J. N. Ding Darling National Wildlife Refuge on Sanibel Island is particularly popular for its scenic bike routes. For $1, explore the nationally protected wilderness, where you'll get the chance to spot wildlife like alligators, river otters and plenty of wading birds. The refuge offers 4 and 8-mile loop options, both of which are fun for the whole family.
Do you want to live in a Southwest Florida bike-friendly community?
Living in Southwest Florida means beautiful scenery and lots of outdoor activities. For all the bicyclists out there, Cape Coral is the perfect place for you. To learn more about property in Cape Coral and other Southwest Florida bike-friendly communities, contact Dave and Brenda of SageRealtor Group at 239-896-8549.