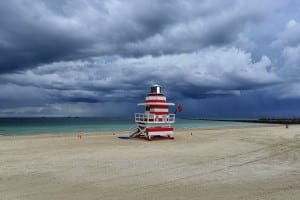 That's right: the Sunshine State isn't always sunny. Living in Southwest Florida is perfect for people who love spending most of their time outdoors, but what happens when a storm on the Gulf brings a few days of endless rain? No worries – Southwest Florida has plenty to do indoors too. Here's your guide to a Southwest Florida rainy day:
Step back in time
Perfect for: history buffs
Edison & Ford Winter Estates, a National Register Historic Site located in Fort Myers, hosts 20 acres of history. See restored versions of Thomas Edison and Henry Ford's luxurious getaways, which still hold ages-old artifacts. The estates will open your eyes to the inventions that defined generations to come.
Get artsy (with a twist)
Perfect for: creative drinkers
A new fad is making waves in Southwest Florida. It's the art of combining painting with drinking. Paint Nite is one of many companies that offer beginner painting classes at alcohol-friendly venues in Southwest Florida. Most classes are BYOB, so bring your beverage of choice, socialize with fellow classmates and learn to paint.
Bowl your heart out
Perfect for: family fun
Southwest Florida is full of bowling alleys and entertainment centers. For a day of family fun, journey over to Headpinz, where you'll find bowling, an arcade and laser tag all in one place. It may be raining cats and dogs outside, but it'll be raining fun inside.
Go on a brewery tour
Perfect for: craft beer enthusiasts
Breweries are sprouting up all over Southwest Florida, and they're not going anywhere. Take your pick from a handful of delicious craft brewers and enjoy the unique ambiance of each. Taste test local recipes, tour the facilities and enjoy a rainy day full of good beer.
Up the ante
Perfect for: an action-packed evening
At Seminole Casino, excitement ticks around the clock. Enjoy the casino's slot machines, table games and a poker room. If gambling isn't your scene, Seminole Casino offers live entertainment and fine dining. No matter what type of fun you're seeking, Seminole has it covered.
See a movie at a luxury theater
Perfect for: a relaxing experience
If the rain's getting you down, opt for a movie day in the most comfortable theater seats you've ever sat in. Silverspot Theater in Naples offers a truly lavish viewing experience with so much more than popcorn and over-sized soft drinks. Relish a full bar and restaurant and enjoy whatever you order from the comfort of your seat.
Jump around
Perfect for: being active
Have some pent-up energy? Sky Zone, an indoor trampoline park in Fort Myers, can help with that. The venue boasts trampoline floors and even trampoline walls. Whether you're seeking a high-intensity work out or a fun-filled game of dodgeball, Sky Zone offers it all. It's perfect for all ages, and let's be honest, what's better than jumping on a trampoline? Jumping on lots of trampolines!
Open your mind
Perfect for: a hands-on educational experience
The Imaginarium Science Center, located in Fort Myers, hosts a variety of enriching exhibits. Kids can enjoy multiple hands-on displays like fossil digs and touch tanks. The "Animal Lab" exhibit showcases numerous animals from reptiles to small mammals. On top of all that, the Imaginarium features a 3D educational film. Whether you stay at the Imaginarium for an hour or all day, your child is bound to learn something new.
Make Southwest Florida your home
Rain or shine, there's always something to do in Southwest Florida. Ready to call it home? Contact Dave and Brenda of Sage Realtor Group at 239-896-8549 to find the perfect SWFL home for you.