Few places in the world are better for unwinding than the stunning area of Southwest Florida that borders the Gulf of Mexico. With sunshine and both freshwater and saltwater everywhere you turn, it's no wonder that this area attracts outdoor enthusiasts of all kinds – boaters, fishermen, scuba divers, beachcombers, golfers – as well as those who are just looking to relax over a good meal or plant themselves in the sand for a few hours with a good book.
No matter your interests, Southwest Florida has something to offer you. While visiting Southwest Florida, do not miss your opportunity to explore Cape Coral. Recently ranked by the FBI as one of the nation's safest cities and by CNNMoney as one of the top twenty-five cities to retire, Motovo Blogs has also named Cape Coral as the second best mid-size city in America for current home buyers.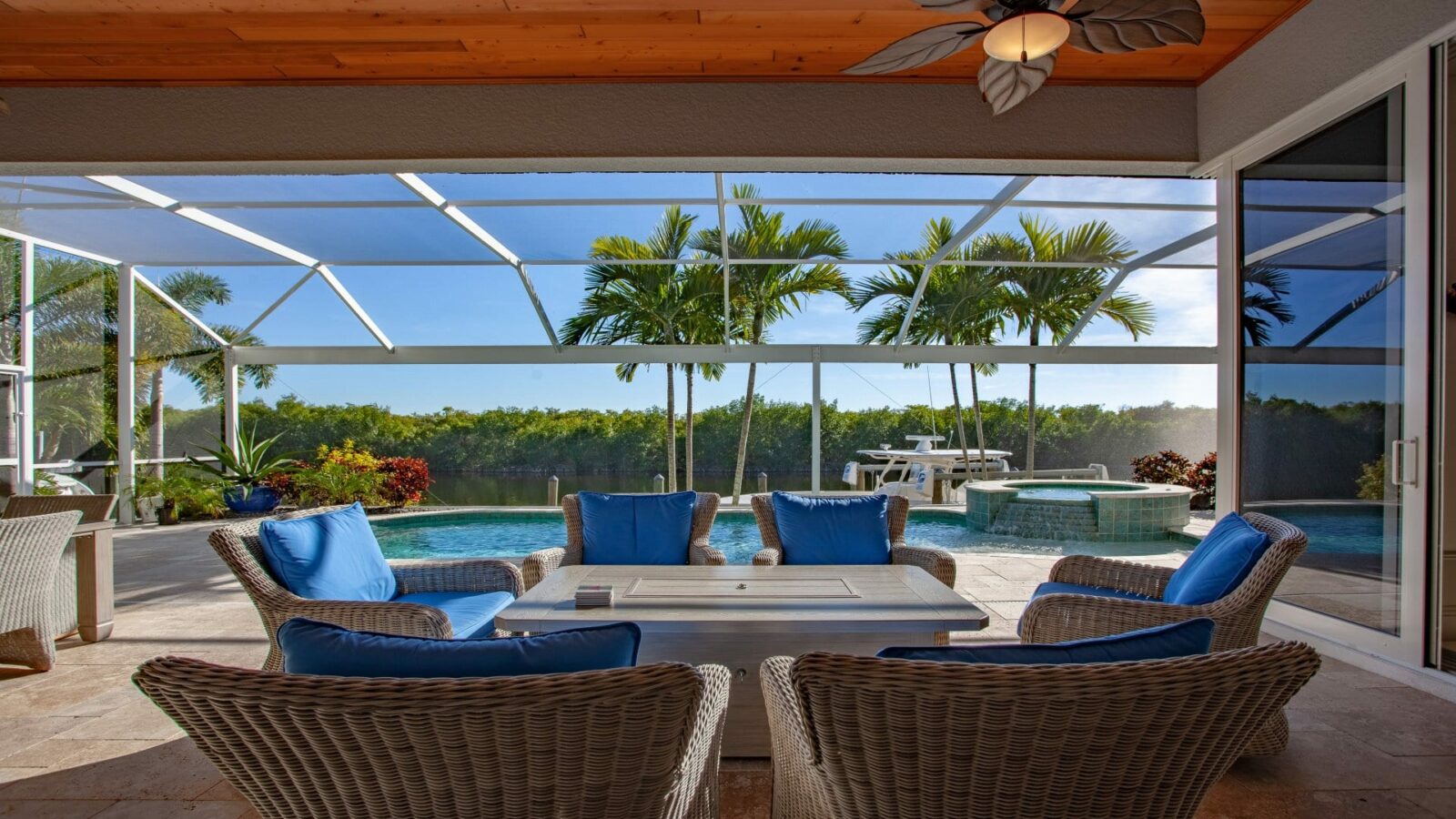 Gorgeous View of the Preserve and Unobstructed Views at This Cape Coral Home
With more than 400 miles of navigable waterways, more than any other city in the world, Cape Coral is often affectionately referred to as a "Waterfront Wonderland." Because Cape Coral homes and condos are located on saltwater or freshwater canals, the dream of having your boat in your own backyard is attainable in many budget ranges, from the $200,000's to the multimillions.
Most of the canals in Cape Coral are called "Gulf access canals," meaning you can leave your backyard and cruise directly to the Gulf of Mexico, where the boating is endless and possibilities include small day-trips or more extensive multi-day excursions. A typical day for residents can involve a cruise over to Sanibel or Captiva Islands, dropping anchor and swimming up to the beach for a beach day or picnic. Afterwards, boaters can cruise right up to a back bay waterfront restaurant for fresh seafood, drinks, and live entertainment.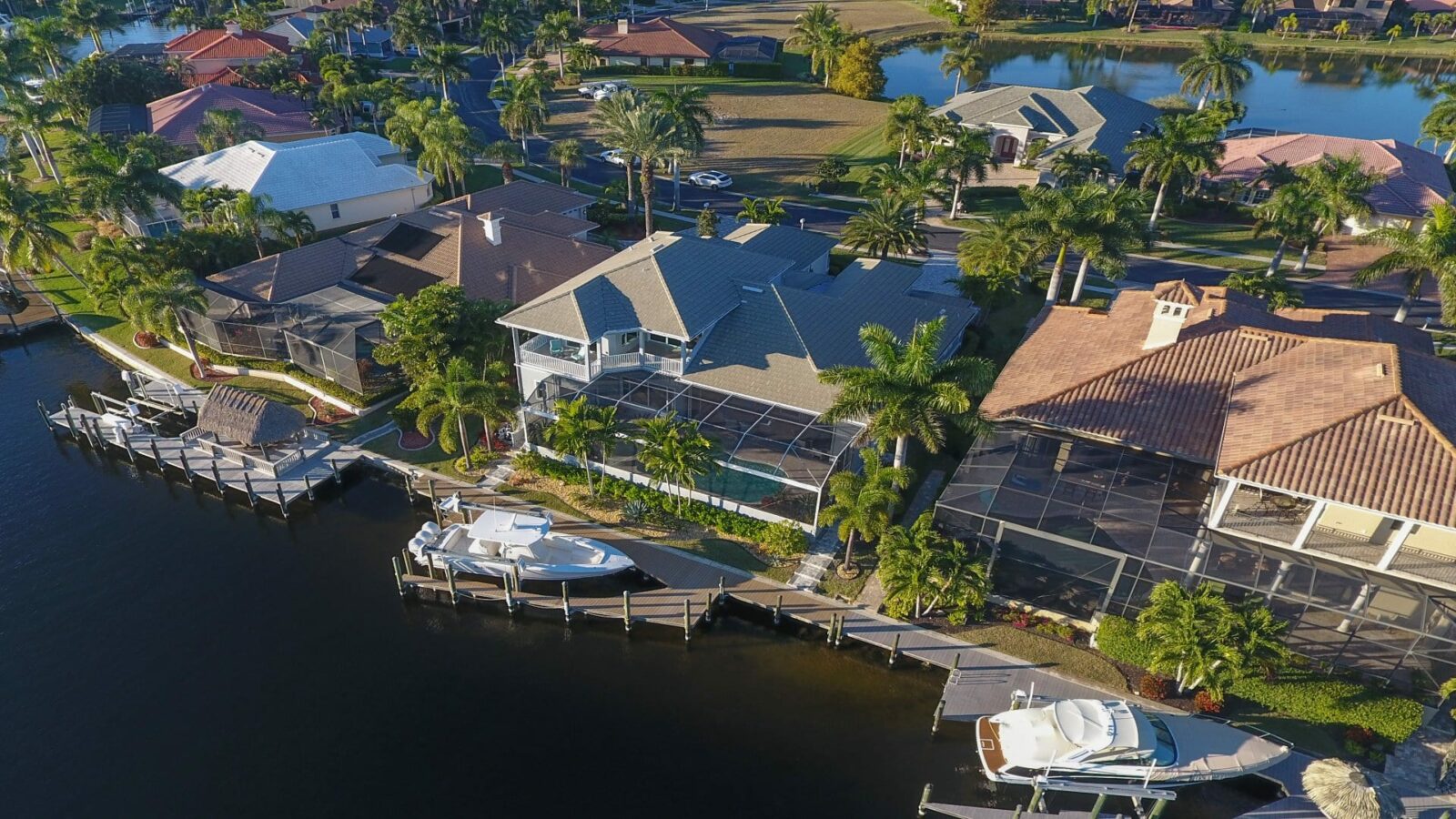 An Aerial View Illustrating the Canal System and Boating Access to Beaches and the Gulf of Mexico
And for those that do not have their own boat, the Parks and Recreation Department maintains fifteen facilities for public boat launches while various marinas in the area are available for boat and kayak rentals, many of them bordering the Caloosahatchee River for cruising to the Gulf of Mexico or fishing the rivers and bays. Other boat launches are located on freshwater lakes, offering great fishing and endless cruising opportunities.
The Cape Coral canal system maintains a constant in and out flow between freshwater from the Caloosahatchee River and saltwater from the Gulf of Mexico, creating a very unique ecosystem in the area. It is ideal for fisherman as it encourages a wide variation in the local fish species. For example, many residents are able to catch snook or jacks right off their own docks, and dolphins and manatees are frequently observed swimming and playing in the saltwater canals of Southwest and Southeast Cape Coral.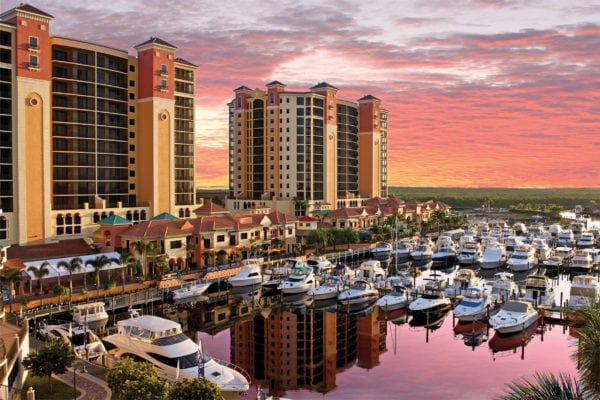 The Cape Harbour Marina Offers Wet and Dry Slips and Boat Rentals
The canals also attract a plethora of winged wildlife and bird watching from your own backyard is a favorite past-time in the community – herons, bald eagles, pelicans, egrets, ospreys, and owls are just a few of the local species that call Cape Coral home. The calm waters and beautiful scenery in the Cape Coral canals and lakes also make this area popular among kayakers and stand-up paddle board enthusiasts who want to get up close and personal with the local wildlife. Several ecological preserves and elevated nature trails are also available to take visitors through the local mangroves and waterways, allowing the observation of local wildlife in their natural habitats.
You will never run out of things to do in Cape Coral and daytime activities abound with over thirty recreational parks in the area and seven golf courses as well as amusement parks, including the always popular SunSplash Water Park.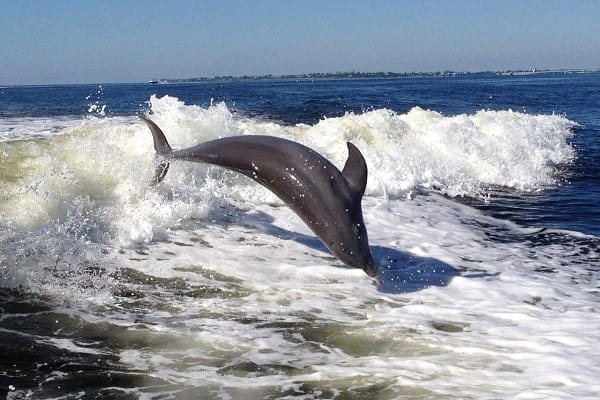 Dolphin Following Your Boat and Playing in the Wake is Common
From the very beginning, I felt like I was working with my best friend…. and had done her homework and invested a significant amount of time making it all happen in the narrow window of time I had. As the closing process was winding down and I let all of our friends know what an outstanding job she'd done, I jokingly referred to her as the "Grand Imperial Puhbah of Real Estate." All joking aside, she has no equal and we will forever be grateful for her invaluable advice and counsel.
We have purchased, sold and purchased again from Dave and Brenda. Always treated us with care and respect. Worked hard to achieve pricing we were offering or asking. Great communication skills. Helped to keep us focused and on track to achieve the goal we had set. Have recommended to several friends who share the same experiences as we have. Highly recommend both Dave and Brenda to purchase or sell.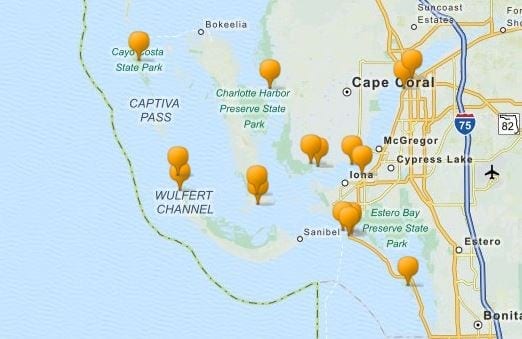 Cape Coral also has a popular BMX bike park that hosts local and national events throughout the year. The Four Freedoms Park at the Bimini Basin and the Cape Coral Yacht Club are among the most popular public parks in Cape Coral featuring riverfront beaches. Residents love to head out to the Yacht Club the first Wednesday of every month, when the Club hosts a sunset celebration – featuring forty-fifty local artists and crafts-vendors – with great food, live music, and a front-row seat to the best sunset in all of Southwest Florida.
Nightlife options are also plentiful and come in a great variety, with many venues offering outdoor concerts under the stars.
Cape Harbour is a popular destination amongst locals, known for its live concerts by the marina featuring blues, jazz, rock, and folk music, whereas the Dixie Roadhouse in downtown Cape Coral frequently has performances by national country music stars and offers line dancing classes and DJ mixes for the late night crowd.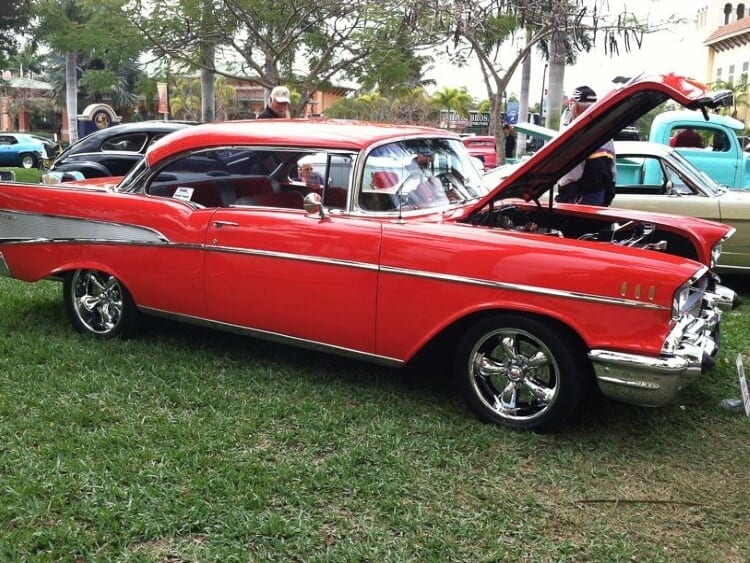 Car Show in Southwest Cape Coral With Live Music and Kids' Games
Southwest Cape Coral is well-known for its comedy nights and tribute bands, often featuring covers of The Beatles, Elton John, The Rolling Stones, Bill Joel, Johnny Cash, and various Rat Pack artists). Tarpon Point and the Westin Resort in Southwest Cape Coral also feature live music weekly and a jazz festival annually, and twice a year motorcycle enthusiasts descend on downtown Cape Coral for Bike Night, another Cape Coral festival tradition with live music and home-cooked food.
Even if you aren't an outdoors or sunshine lover, Cape Coral still has something to offer you. Among Cape Coral's cultural offerings are the Historical Museum, the Art Studio, the Cape Coral Art League, and the Cultural Park Theater, a 187-seat performing arts facility providing a stage for local community actors. Cape Coral also plays host to many annual events in the area, such as their Juried Festival of the Arts, which attracts thousands of artists and art-enthusiasts from all over the world each year in January.
Summer visitors or locals will enjoy the Red, White, and Boom 4th of July Celebration in downtown Cape Coral, a signature event, featuring great food, live music, and plenty of activities for the kids.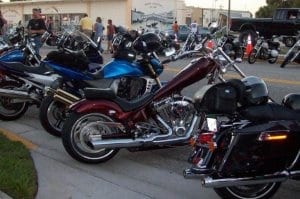 Thousands Attend Cape Coral Bike Night to Enjoy Live Music, Food Vendors, Crafts and More
Cape Coral also offers lots to do and see in terms of fishing tournaments, poker runs, and boat and car shows – two of the more popular events being the Tour de Cape, an annual cyclist event, and Water and Wheels, an annual boat and car show held for charity at Cape Harbour. Baseball fans will also be thrilled to discover that the training camps for the Boston Red Sox and the Minnesota Twins are just fifteen minutes away.
Dining in Cape Coral is a local affair, earning the area a reputation as a great spot for "foodies." Most restaurants are locally owned and serve fresh home-cooked meals, often using locally-caught fish and taking advantage of the local farmer's market for ingredients. Variety is abundant but, of course, with Cape Coral being right on the water, fresh seafood and fish restaurants are most popular, followed by specialty restaurants featuring cuisines from Cuba, Persia, Asia, Mexico, and Italy, just to name a few.
As Cape Coral expands, the local chain restaurants also continue to grow in number, and Cape Coral features locations for some popular local and national favorites such as the Bonefish Grill, Carrabas, Culvers, and Five Guys Burgers, among others.
No matter where your interests lie, Cape Coral has activities to help you relax. So when thinking about where to spend your time when the cold weather hits, pay Cape Coral a visit and see for yourself why millions from all over the world flock to this area and call Southwest Florida their winter home or their favorite vacation hotspot.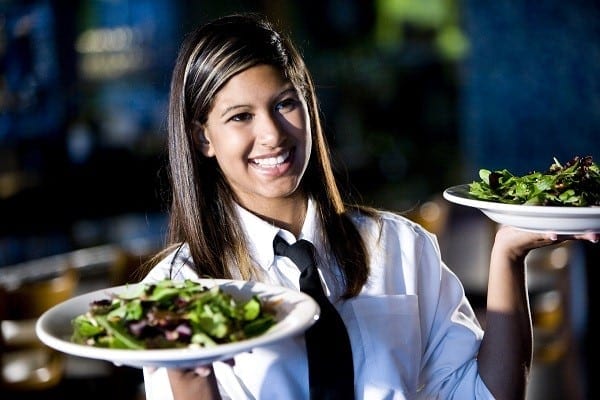 Cape Coral, With Locally Owned Dining, is Known as "Foodie Heaven" 


Sorry we are experiencing system issues. Please try again.