With hundreds of miles of relatively flat, linear-patterned roads, Cape Coral is a bicycling paradise. Advocates and leaders for the ultra-healthy recreation aren't just coasting along satisfied with these exceptional characteristics – they are propelling opportunities for enthusiasts into ever higher gear.
Cape Coral boasts 90-plus miles of interconnected bike routes including eight that feature special signage, maps and kiosks and the city is a League of American Bicyclists' 2015 Bicycle Friendly Community bronze-level recipient,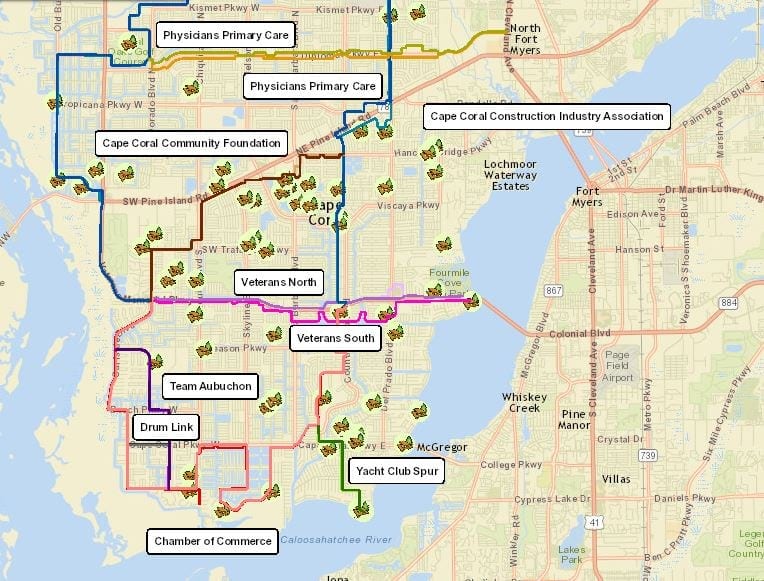 The Caloosa Riders Bicycling Club (CRBC) sets out on Tuesdays and Thursdays at 7:30 a.m. (8 a.m. during season) from the Bagel Factory at the Del Prado Extension in the Cape's northeast section with several different paces and route lengths between approximately 35 and 40 miles.
The CRBC also conducts the Surfside Ride each Monday at 8:30 a.m., a 22-mile route based at the Trek Bicycle shop in central Cape. It includes some residential roads with the vast majority on Surfside Boulevard and Trafalgar Parkway with Cape Harbour serving as a convenient midpoint.
Isobel Hitchcock, president of the CRBC, says the Cape is popular with members due to "the amount of people living there and the amount of land it covers without being compactly populated," adding that the Bagel Factory ride usually draws approximately 25 riders this time of year and nearly double that during season.
For interactive route maps: capecoral.net/bicycling.
Caloosa Riders Bicycling Club: crbc.clubexpress.com
Critical Mass: meetup.com/Biking-SWFL