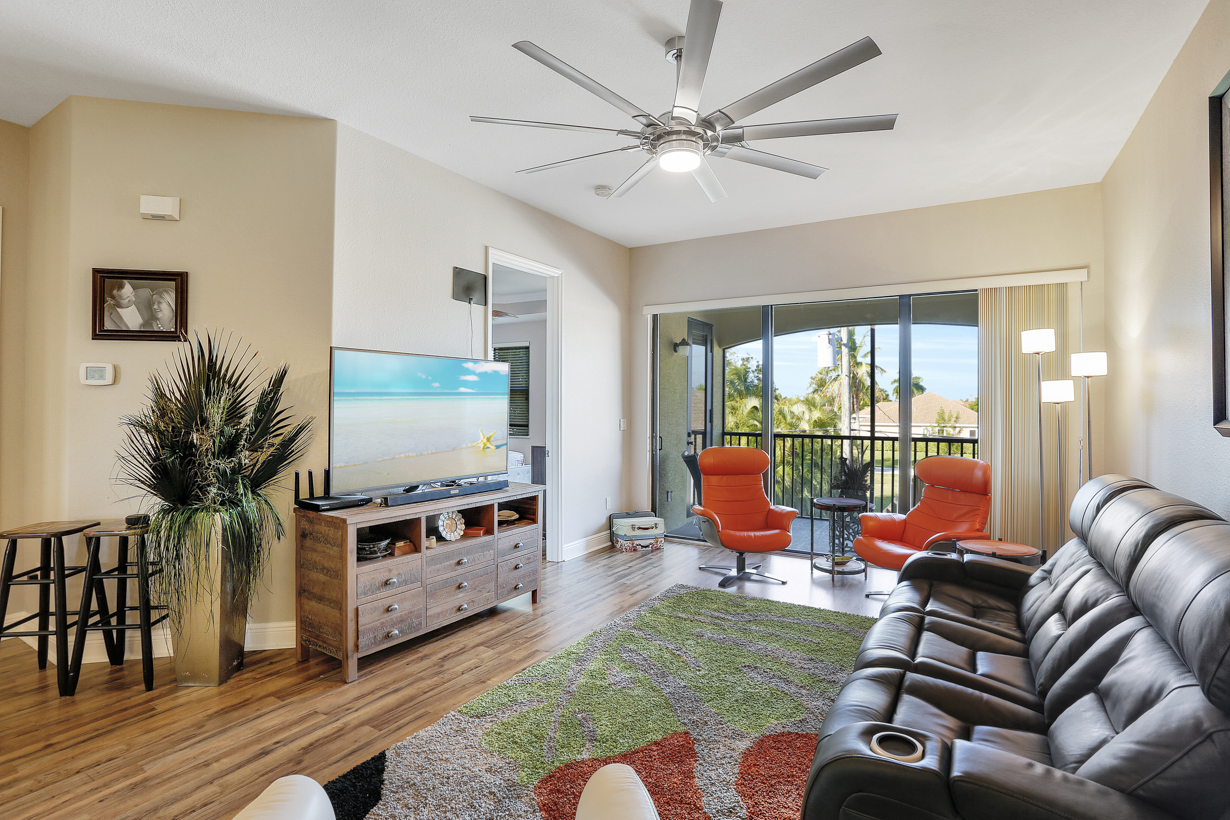 What Does Turnkey Furnished Mean for a Home Being Offered For Sale?
When a home is being offered turnkey, it means that everything is included in the sale (everything "conveys"). And by everything, it typically means everything down to the silverware and a corkscrew. And so the buyer just needs to "turn the key" to move in.
In Florida, the purchase contract states that certain personal property (that which is not real estate) conveys with the sale. This includes attached fixtures (an outdoor kitchen for example), kitchen appliances, security systems, storm panels, attached light fixtures, window coverings, and may other items necessary for operating the home.
When a home or condo is offered turnkey it means the seller intends that personal property is staying with the home above and beyond the basics.
Furnishings and Household Goods Included in a Turnkey Sale
Here's a list of customary turnkey items:
Living Areas and Lanai
Indoor furniture such as sofas, chairs, ottomans, end tables, table lamps, coffee tables, dining sets, hutches, wall mirrors, and console tables
Dining tables and chairs
Outdoor furniture such as lanai dining sets, seating areas and coffee tables, lounge chairs, and umbrellas
Décor items such as vases, throw pillows, tabletop sculptures, and other home accents
Area rugs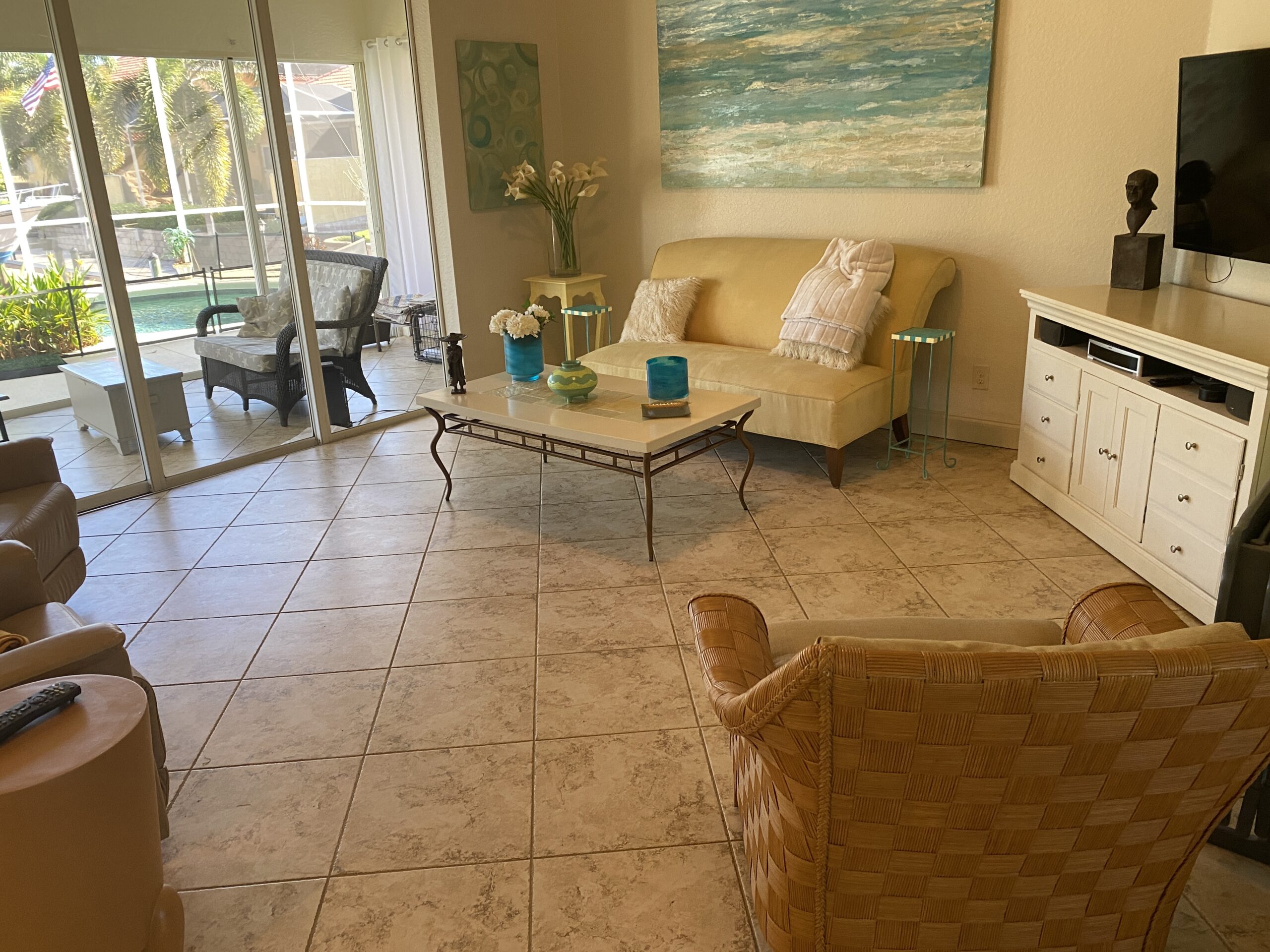 Kitchen and Laundry
Small appliances such as a toaster, blender and coffee maker
Bar Stools
Silverware and serving utensils
Cookware such as pots and pans and bakeware
Glassware such as wine glasses, every day cups, and coffee mugs
Dinnerware such as plates and bowls
Serving dishes such as salad and pasta bowls, serving platter
Cleaning tools such as vacuums and mops
Washer and Dryer
Bedrooms, Bathrooms, and Den/Offices
Bed set frames and mattresses, bunk beds, murphy beds
Armoires
Nightstands and lamps
Dressers
Chairs
Linens, such as bedspreads, pillows, and towels
Décor items such as candle holders, vases and throw pillows and other home accents
Office desks and chairs
Electronics and Exclusions
With respect to electronics, turnkey usually means that the TVs and stereos are included (at the very least, TV mounts will remain). It also often means sound systems are included.
It is understood that exclusions are personal property items such as clothing, photographs, trophies, and books. Also cars, boats, golf carts are excluded from turnkey sales unless otherwise specified. Other exclusions that the seller may list:
Artwork (usually not all, but some is excluded such as the seller's favorite painting, décor items and family heirlooms)
Tools (hammers, drills, saws, tables, power washers, tool boxes)
Recreational equipment such as bicycles, golf clubs, and kayaks
Computers, printers, routers, DVDs and CDs
Each Situation is Unique
These lists are examples of what a turnkey home or condo sale includes,or excludes. Every situation is unique. If you are selling, it is important to make a list of inventory that is included or that is excluded (or both). Ideally, sellers remove the items from the home before listing the property. After all, if it's not physically at the property (or is boxed up and marked "personal property"), there will be no misunderstandings about turnkey conveyance.
Turnkey Versus Furnished or Partially Furnished
As explained above, turnkey is often referred to as "just bring your toothbrush." Homes are also offered "Furnished" or "Partially Furnished." They key difference here is the seller is intending to leave some major items such as living room furniture, but not the items that outfit a home such as dinnerware, linens, and similar. We'll cover more on this topic in a separate article.
Pros and Cons of Selling and Buying a Turnkey Property
For many people, buying or selling turnkey works to their benefit.
For the seller, there is the convenience of not having to pack and move (or store) furnishings and household goods. Bear in mind that for many sellers, their Southwest Florida home is a second home or a vacation rental property and often they do not have another property to bring the furnishings to (or they are downsizing or upsizing). 
For the buyer, there is the move-in ready convenience — without having to do endless shopping and waiting for furniture to be delivered. The other benefit to the buyers if they plan to seasonally rent the home as a vacation property is that the home is ready to rent from day one.
Even if the furnishing and household goods are not to the buyers' taste, the items can be eliminated or replaced over time. It's easy to schedule a pickup for donations and the replacements can take place over time.
Get it In Writing!
It's important to work with your real estate agent to ensure the turnkey inclusions or exclusions are included in the contract (the listing agreement or the purchase agreement). This is either a detailed list of what is being take or what will stay (usually whichever list is shorter) or a photo album of inventory with markings. Alternatively, if the turnkey agreement between buyer and seller came after the purchase terms are agreed (the property was not listed as turnkey but the parties want to include some or most items), then that's yet another situation that needs careful attention.