Renting Your Southwest Florida Second Home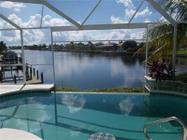 Many of our clients are buying their second home or retirement home now to take advantage of the low prices. A typical question we get is "We are not planning to retire for some time and will be only able to be in Southwest Florida a few weeks of the year. So what options do we have for leasing out the property while we are not there?"
And so it's common that many people buy with the intention of leasing the home or condo to cover some of the ownership expenses for a few years or for the duration of their ownership of the property. If you are planning to rent your home or condo for all or part of each year, you are in the league of a Southwest Florida investment property strategy. It's a good idea to know about leasing options before shopping as a way to determine which areas and property types will fit best within all of your objectives.
There are two ways to rent the property: seasonally to people vacationing in Southwest Florida or annually, to people who are (or will be) permanent residents. As a full-service team, the SageRealtor Group is able to assist you in both types of rental options and we can often get the property rented for you very quickly after your closing.
So let's take a look at each type of rental option and which one is right for you.
Renting Seasonally
Putting your home or condo on a seasonal rental program is a good idea for those that want the flexibility for you, your family, and your friends or clients to enjoy the home part of the year, while renting the home when you are not able to be there.
Properties that work best for seasonal rental are those that will appeal to people planning a vacation – our area attracts tourists from all over the United States, Canada, and Europe (primarily the United Kingdom and Germany). The most popular vacation properties are waterfront homes and condos, golf course homes and condos, and single family homes with pools.
Amenities are a big draw as well. For example, condos in the Cape Harbour Yachting community are rented frequently to people vacationing in Cape Coral for a week, a month, or for an entire winter. Guests love the wonderful pool area, the on-location dining and shopping (including live outdoor concerts, farmers market, and other events), the marina and boat rental facilities, the on-site fitness center, basketball and tennis courts, walking paths, and the proximity to other area attractions.
Likewise single family pool homes on waterfront canals are a draw to people who want the water views out their backyard, option to rent a boat for fishing or cruising, and who like to BBQ by the pool.
Here are factors to consider when shopping for properties that will rent well seasonally.
Seasonal Rentals Must Be Fully Furnished
A home that will be rented to vacationers must be fully furnished and outfitted with everything a typical home has. This means complete furnishings indoors and out, decorations to make the home comfortable and inviting, all kitchen appliances, utensils, cookware, table service for eight, linens, towels, iron and ironing board, and don't forget the all-important corkscrew and bottle-opener.
While shopping for property you will find some where the furnishings are included in the sale, most often a bonus in saving time and money. If you purchase an unfurnished property, plan to spend about $15,000 to fully outfit the home (or more depending on your taste and the size of the home).
More Tips
Other tips from our seasonal rental experts include:
Internet Access is very important and broadband is ideal (DSL, cable). Most service providers allow you to turn on/off the service when the home is not occupied.
A king size bed in the master bedroom is a must have.
A heated pool is a plus feature.
Be sure you have TVs in the living area or family room and also at least one additional TV in the master bedroom. A DVD player is also a plus.
Leasing Policy and/or Restrictions
Before buying a property that you intend to rent seasonally, work with your real estate agent to be sure you are looking only at properties that allow frequent rentals. For most single family homes, there will be no restrictions on how often you can rent the unit and you set your own policies. But in condominiums, the association typically has a leasing policy that influences how frequently and how many times per year you can lease the unit. Rental policies have two parts: maximum number of leases per year and minimum days lease.
So for example, a "4-90" policy means 4 times per year or minimum 3 month lease. The 4-90 or similarly restrictive policies can limit the windows of opportunities for rental, so if revenue potential is important to you, these restrictive policies are ones to avoid.
Perhaps the most common rental policy is 12-30, meaning 12 times per year, minimum of 30 days. It is not difficult to find seasonal renters who stay for a month or more. (Bear in mind if you are looking in 55+ communities that there might be tenant restrictions based on age.)
Also available are condos with weekly or bi-weekly rental periods allowed. And finally, there are "condo-hotels" that allow nightly rentals. Condo-hotels typically have on-site rental management and are operated just like a hotel with respect to check-in/check-out, cleaning schedules, and so on. Most condos on Fort Myers Beach and Sanibel Island are operated as condo-hotels, as well as some condo towers in planned, gated communities such as the Resort at Tarpon Point Marina in Cape Coral (opening November 2009) and the Vista del Sol tower in Burnt Store Marina.
Property Management Services
Additionally, you will want full or partial property management services to help you with renting the property, checking tenants in and out, collecting rent, and similar services. Read more about property management services here.
Rates for Seasonal Rentals
Seasonal rental rates vary greatly by size, location, view, and amenities. As an example, one of our clients rents their Cape harbour Ccondo overlooking the marina for about $950 per week in high season. Another of our clients offers their single-family pool home on a saltwater canal for $1000 per week in high season. In both cases, discounts for longer term bookings (a month or more) are available.
Renting Annually (Long-Term Leasing)
Some of our clients buy property as an investment that they will either keep as an investment property (and sell at some point) or that they will move into in one or more years, but want to lease in the mean time. In this case, renting annually might make sense.
A key difference in annual rentals is that the home or condo does not need to be (in fact should not be) furnished. Most people seeking to rent for 6 months, a year, or longer bring their furnishings from their prior residence. So if you want to buy now and furnish later the annual leasing option is right for you. Another difference is your clientele will be local residents who are either looking for a move or people who are relocating to the area.
With respect to leasing policies, most homeowner and condominium associations will allow annual leases. There may be a requirement for the tenant to be approved by the association.
When leasing to long-term tenants, be sure your property manager conducts thorough background checks, collects a security deposit of at least one month's rent, and checks in on the property regularly.