One of the most infamous battles that resulted in one of the most iconic images of the World War II era marks its 75th anniversary this week and will be remembered at Cape Coral's most prolific veteran honor area.
The 75th Iwo Jima Anniversary Ceremony takes place this Sunday at Eco Park in Cape Coral under the Veterans Memorial Pavilion beginning at 10 a.m. presented by the PFC Paul E. Ison Detachment 60 Marine Corps League.
Read more at the Cape Coral Breeze newspaper.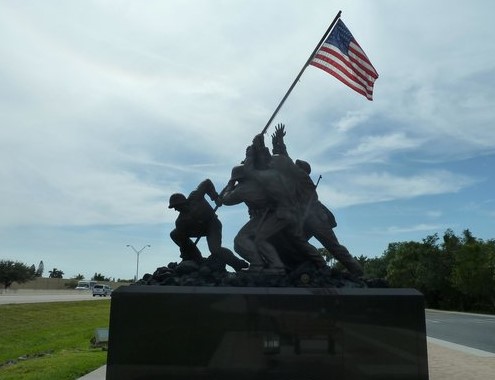 The Veteran's Memorial at Four Mile Cove Ecological Preserve, which was constructed in 1997, features just one of three original, one-third-scale models, by sculptor Felix de Weldon, of the Marine Corps War Memorial Iwo Jima statues, the two others being in Liberty, Virginia and Parris Island, South Carolina.