Pine Island Village in Cape Coral to Break Ground
A new high end commercial development is in the works along Pine Island Road. Local developer/builder Ray Masciana plans to break ground on Pine Island Village in December. He's working with Carlos Acosta, broker/owner of CRES Commercial Real Estate Services of Southwest Florida, to find just the right tenants for retail, restaurant and "triple A" office space. Planned amenities include water features, unique architectural designs and a gazebo.
The new development site is on Pine Island Road in Cape Coral, between Santa Barbara and Del Prado boulevards.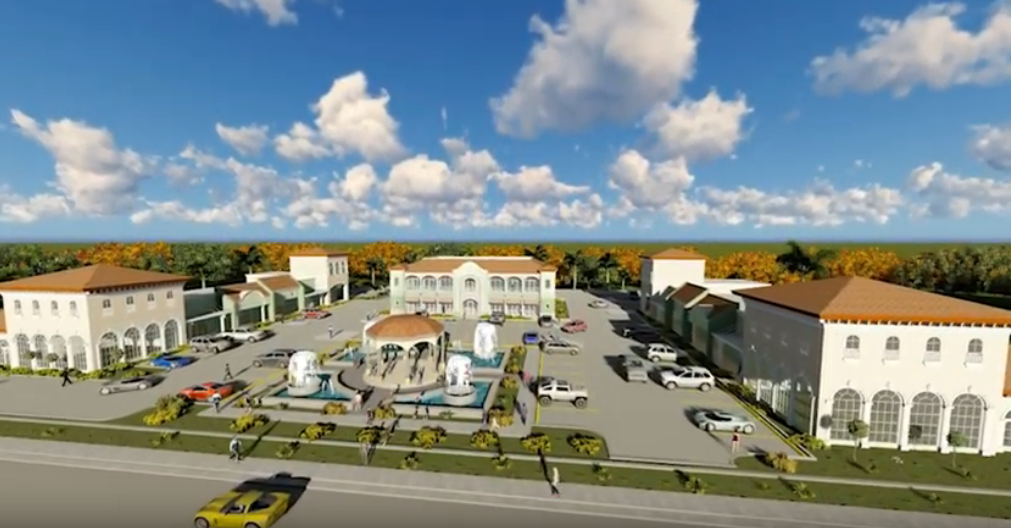 View an interview with the developer here and see an animation of the Pine Island Village Rendering.
"I wanted to do something completely different. And that's why we created a village atmosphere — building surrounded in a U-shaped form, with a gazebo and fountains in the middle to bring the community together — have community events as well — and all the retail users can have events as well to bring more people into the village. There's plenty of seating around the fountain, at least 200 seats," said Masciana.
"It's a different project — unique. I'm looking for boutique-type businesses that don't exist in the Cape right now," said Acosta. "You have a lot of centers with your traditional national tenants, but we're looking for different types of businesses — restaurants, your typical (mom and pop) local businesses that you see in downtown Cape Coral. We want to bring that to Pine Island Road."