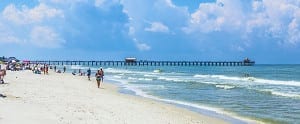 Everyone knows that some of the world's best beaches can be found in Southwest Florida. It should come as no surprise then, that homes directly on the beach or in communities within walking distance of the beach are among some of the highest properties in demand. And wherever you choose to live in Southwest Florida – Naples, Fort Myers, Estero, Bonita Springs, or Cape Coral – there is sure to be a beautiful beach to suit your tastes nearby. Listed below are a few of the best and most popular beaches in Southwest Florida.
Sanibel Island Beach
This is truly one of the best family-friendly beaches in all of Florida, and is known the world over for being one of the finest shelling beaches around. Visits to Sanibel Island Beach are not just good for your seashell collection though, as there is so much more to be seen and done here. Wildlife fans can catch an abundance of creatures in and around the water here, with excellent bird-watching and even the opportunity to spot a dolphin or two.
Lover's Key
This location has not only won awards for being one of the best beaches in Florida if not the entire United States, but is also just an overall great venue for people who love the great outdoors. You can rent kayaks or canoes from directly within the park, and also take advantage of volleyball courts and walking trails for recreation. You can often spot manatees, dolphins, and birds of all kinds at this beach as well, and it's no surprise that this spot is a popular wedding locale.
Naples Pier
By far one of the biggest attractions in Naples, if not all of Southwest Florida, is the Naples Pier. By day, it's a beautiful sunny beach for relaxing and catching in the scenery, by night it offers a romantic oceanside stroll after an elegant dinner downtown. Located in one of the more chic areas of Naples, this popular beach and its nearby shops and restaurants are places to see and be seen.
Barefoot Beach
In addition to its beautiful and clean sand, Barefoot Beach is known for being a gopher tortoise sanctuary, as well as home to a variety of other wildlife. The beach itself is located on one of the last undeveloped barrier islands on the southwest coast of Florida, Little Hickory Island, separated from the mainland by an estuary. The mixture of freshwater and saltwater between the island and the mainland attracts a very interesting mix of animals, and is a great place for fishing and leisure.
Cape Coral Yacht Club
While not directly on the ocean, the beach at the Cape Coral Yacht Club still has something special to offer. This gorgeous beach is located on the beautiful Caloosahatchee River, which connects to much of the more than 400 miles of canals that can be found throughout the booming city of Cape Coral. There is also a fantastic community park at this location, with free parking, multiple playgrounds for kids, and free access to BBQ grills, tennis courts, racquetball courts, and more. Featuring its own fishing pier as well, this is a great place for recreational family activities of all kinds.
For the best Naples, Bonita Springs, Fort Myers, or Cape Coral real estate that is close to these beaches and more, contact Dave and Brenda of Sage Realtor Group today by calling (239) 896-8549.