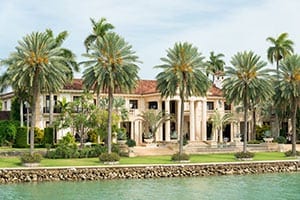 With waterfront homes in Southwest Florida you get:
Relief from hot weather. Temperatures in Southwest Florida typically stay pretty hot year round, and can even become a little uncomfortable during summer months. With a home right on the water, you can can count on gentle Gulf of Mexico breezes to provide much-welcomed relief from the high temperatures and humidity. And on days that are particularly hot, a quick hop in the ocean can be exciting and fun and serves as an instant cool-down on any day of the year.
Gorgeous views. It should come as no surprise that any luxury waterfront home in Southwest Florida comes equipped with its own set of stunning views. And with so much water to choose from, you generally have your choice of oceanfront, lakefront, or riverfront home, depending on your budget and the amount of access and privacy that you are looking for. We promise you, waking up in the morning and having the ability to see the ocean from your window or back porch is something that you will never get tired of.
A chance to get close to nature. If you love dolphins, fish, and alligators, but don't necessarily want to join them in the water, then a waterfront home in Southwest Florida brings you the best of both worlds. Many of these fascinating creatures can be observed right from your yard or dock, but at a level and distance that is safe and comfortable for your family and pets. Dolphins in particular love playing in the Cape Coral canals and can always bring out a smile or two, whether it's the first or the hundredth time you've seen them.
A mix of fun and leisurely activities. With a home right on the water, you have an abundance of water-based activities right at your fingertips. Like to waterski, kayak, or sail? Done. And the best part is, you never have to travel or spend any money in order to enjoy these activities, you don't even have to plan. With the whole ocean in your backyard, you can head out on the water within minutes, whenever the mood happens to strike you.
To keep your boat in your backyard. Anyone who has ever owned a boat before will most likely tell you that the biggest hassle is in maintaining it, namely, in housing it. Renting a location for your boat can be extremely costly, and depending on its location and proximity, you may find that the hassle of accessing your boat when you want it is more trouble than its worth and often just keeps you from using it as much as you'd like. With waterfront living, whether you have your own private dockage or access to an on-site marina, spending a day on your boat is as simple as walking out your back door.
To enjoy added seclusion. While not true in every case, waterfront properties do tend to offer their own kind of privacy and seclusion. Homes on the water tend to be more spaced out, and with large yards and spacious outdoor entertainment areas for spending time with guests. It also helps that at least one side of your house is only accessible or viewable from the water, especially if you've got a fear of particularly noisy neighbors.
Related:
Cape Coral World's Largest Canal City
Waterfront Lingo – Learn about Waterfront Property in Southwest FL