In This Article:
Cape Coral, Lee County Florida – 33914, 33904, 33993
The gorgeous waterways of Cape Coral are certainly one of the biggest draws to Southwest Florida, especially since the more than 400 miles of navigable waterways provide ample opportunities for waterfront living. Not only do these canals also offer flood protection, irrigation, and recreational opportunities, but they also keep home values in the area up and provide for an overall amazing quality of life.
Despite their established appearance, the Cape Coral canals have not always been here. The city was first founded in 1957 by brothers and real estate partners Jack and Leonard Rosen, who immediately developed huge plans for their newly acquired 103-square-mile property. In 1958, construction began for a master-planned community of both streets and canals, and the city was promoted like no other.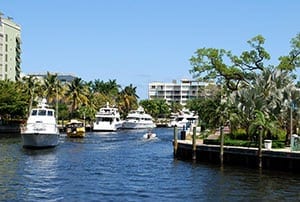 The Gulf American Corporation (GAC) was established strictly as a means of local promotion, operating a fleet of aircraft whose sole purpose was to fly prospective buyers over the area to showcase the land. They used a mix of advertising and celebrity appearances as well, filming movies and television episodes in the area for the additional exposure. It worked, and within its first five years of existence, Cape Coral had grown to a population of nearly 3,000.
From its very inception, Cape Coral was destined to be the biggest and greatest canal city in the world. While the canal construction started off slowly, by 1963 more than 160 miles had been completed. As Cape Coral grew, particularly after the completion of the Cape Coral Bridge in 1964, which made traveling between Cape Coral and Fort Myers suddenly fast and easy, the canal system grew as well. Today there are over 400 miles of waterways, many of them with direct access to the Gulf of Mexico, and Cape Coral has established itself as one of the most unique waterfront communities in all of the United States.
Related:
Outdoor Fun in Cape Coral Florida
Southwest Florida Things to Do