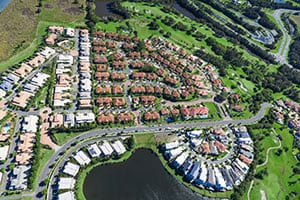 Southwest Florida has something to offer everyone; the only requirement for residents is a love of sunshine and warm weather. And while the cities and communities of Southwest Florida each have their own personalities and desirable characteristics, what they have in common is the atmosphere they provide to residents; one of comfort, safety, natural beauty, and of truly being "home."
Cape Harbour Real Estate in Cape Coral
Cape Harbour is an extremely popular neighborhood in Cape Coral that is separated into three distinct enclaves. Harbour Preserve is a private island on which every home is a gorgeous waterfront property with deepwater dockage, where residents can relax in seclusion and enjoy strolls through the peaceful nature preserve that sits at the center of this small island. Harbour Pointe offers luxury waterfront properties in a variety of shapes and sizes, whether situated directly on a Gulf-access canal or on one of Cape Coral's many pristine lakes. The Marina at Cape Harbour is a cluster of elegant high-rise condos, all with an excellent view of the 76-slip deepwater marina below. While each enclave within Cape Harbour offers its own benefits and amenities, all have access to the miles of world-class restaurants, including Rumrunners and Fathom's, and adorable shops that can be found in and around The Marina.
Gulf Harbour Yacht and Golf Club Real Estate in Fort Myers
Gulf Harbour is considered to be one of the more desirable gated communities in all of Southwest Florida, especially considering that residents of this community have access to their own private golf club. This 547-acre community is home to over 1,600 luxurious estates, and hosts numerous sporting and club events throughout the year. Gulf Harbour is even a great community for non-golfers as well, as other amenities include tennis courts, a heated pool and hot tub, saunas, a day spa, and a Sports & Fitness Club offering complimentary weekly fitness classes. No matter what your lifestyle and interests, Gulf Harbour is the perfect community for Southwest Florida residents who want to stay active and spend as much time in the Florida sunshine as possible.
Bonita Bay Real Estate in Bonita Springs
Bonita Bay is a stunning 2,400-acre master planned, gated, member-owned community, that truly sets the bar for all housing communities in Southwest Florida. Bonita Bay was designed with the existing nature preserves in mind, and was meticulously planned so that residents could co-exist with and experience the natural beauty of Southwest Florida. Within the community of Bonita Bay are 56 smaller neighborhoods, each with their own style and character, where residents can find a variety of home shapes and sizes to fit any budget, from cozy coach homes to massive estates, and everything in between. Though more than half of the community is devoted to the area's existing nature areas, residents can also enjoy golf, tennis, a fitness center and spa, as well as a plethora of classy dining options at the community's very own on-site Bonita Bay Club. Boat owners can also enjoy use of the on-site deepwater marina, which will get you right out to the Gulf of Mexico quickly via the Imperial River and Estero Bay.
Grandezza Real Estate in Estero
With a home in Estero you will find yourself right in the center of everything that Southwest Florida has to offer, whether it's the shopping in Naples, the boating in Cape Coral, or the cultural events in Fort Myers. At Grandezza of Estero, the motto is "Live the Grand Life," something you'll find easy with a home in this luxurious community. Grandezza is divided into ten separate neighborhoods, which between them offer all available home types and sizes, from coach homes to single family homes to gorgeous estates and villas. Within Grandezza you'll find plenty of natural beauty as well as a private club house, Olympic-size pool, fitness center, spa, numerous dining options, and a championship golf course designed by Darwin Sharpe III. The lush landscaping and natural sanctuaries of Grandezza also make this an excellent area for special events including weddings, reunions, and holiday parties.
Pelican Bay Real Estate in Naples
While residents of Pelican Bay enjoy a variety of world-class amenities, there is no doubt that the finest of these amenities are the two private beaches within the community, which residents have access to either by foot or by taking complimentary solar-powered trams. The community also hosts a total of 18 tennis courts spread throughout two separate facilities, and residents can also enjoy access to the 27-hole golf course, fitness center, wellness studio, meeting rooms, computer center, art center, and any of the four beachfront restaurants made exclusive to members. Pelican Bay was designed to be both a social and cultural center for its residents, and a variety of events are put together through the year by residents to showcase community issues and educational programs and to encourage participation in the greater community of Naples at large. Pelican Bay is a perfect representation of why people choose to live in Southwest Florida in the first place: beautiful homes surrounded by great people, and with plenty of activities available to stay busy in the beautiful weather throughout the year.
To explore homes in any of these popular communities, be sure to speak with Brenda or Dave at Sage Realtor Group by calling them at 239-896-8549or visiting them online at www.https://sagerealtor.com/.