In this Article:
Fort Myers Beach Florida, Lee County FL, 33931
When many people think of "paradise," they think of Southwest Florida. This area of Florida sees more sunshine than any other part of the state and has miles of world-renowned coastlines and beaches. But not everyone comes to Florida for the beaches – golfers, boaters, scuba divers, fishermen, and foodies will all feel right at home in Southwest Florida. Don't miss your opportunity to check-out Fort Myers Beach, a small yet vibrant town located on the island of Estero, in the heart of Southwest Florida. With seven miles of gorgeous beaches and plenty of activities for the whole family, Fort Myers Beach has often been called "the world's safest beach."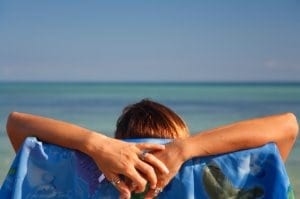 The Gulf side of the island faces Southwest, and offers some of the most stunning and memorable sunsets in the world, while the back bay side of the island features an intricate web of saltwater canals and marinas. Beachfront homes on the Gulf side are highly coveted, but Fort Myers Beach real estate is more available and affordable than you might think. Studio-sized condos can be found right on the beach starting around $150,000, while single-family homes are in the $2-3 millions. On the bay side of the island, houses and condos are intermixed with commercial businesses, and many feature their own dockage. No matter where you are on the island, you'll be within walking distance of pristine beaches, elegant restaurants, and boutique shopping.
The north end of Fort Myers Beach is popular with the college crowd from the various local universities, and is known for being energetic and lively. Countless bars and dance clubs bring in visitors from all over the area, where often times people can enjoy live music or a drink right on the beach with their feet in the sand. Time Square really lights up at night, and local street performers and musicians can often be seen here as well.
On the south side of the island, you'll find more rest and relaxation, as this is primarily a residential zone. No matter where you are on the island, you'll find that the Gulf is often filled with water-enthusiasts of all kinds, and countless thrill-seeking activities are right at your fingertips. Boat, jet-ski, and kayak rentals are readily available, with many companies in the area offering parasailing, cruises, dolphin encounters, and chartered fishing excursions. Fort Myers Beach is perfect for those who love to stay active, and many recreational parks are also available for picnics, hiking, cycling, and eco-tours.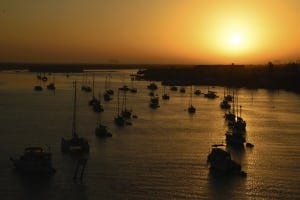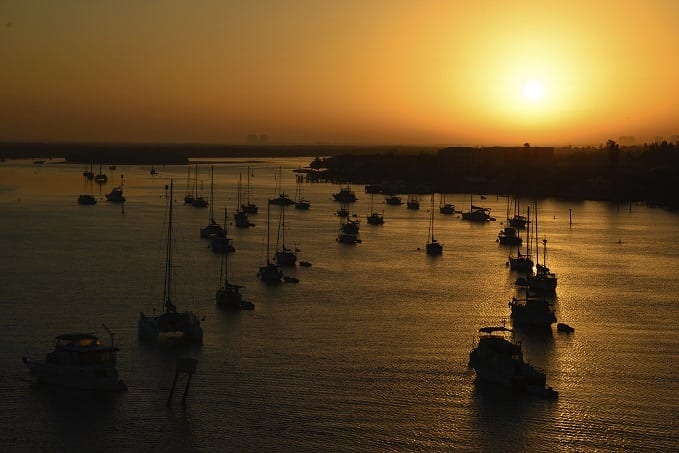 This exciting area also plays host to many annual events, attracting visitors from all over the world. The Shrimp Festival, held every March, is probably the most well known, but the area also hosts World Championship Beach Sculpting, as well as various offshore boat races, fishing tournaments, sailing regattas, art festivals, and more. Spring Break is always a popular time in Fort Myers Beach, especially with the arrival of the Cincinnati Firemen, a group of twenty or so firemen that perform variety shows at many local venues throughout the week. The boys have entertained thousands of visitors since this tradition began in the eighties, with each show offering plenty of eccentric dances, costumes, and, of course, laughs.
Fort Myers Beach is a popular destination among "foodies" of both the local and visiting variety. Restaurants on the beach range from casual, family establishments all the way up to the best in fine dining. Many local restaurants take advantage of their beachside appeal, serving fresh seafood straight from the waters of the Gulf. You'll notice local restaurants are especially fond of the shrimp dishes that they offer – and with good reason! With more Florida pink shrimp caught in this area than any other in Florida, you'll see why fisherman have referred to the waters between Fort Myers Beach and the mainland as "pink gold" since the 1950's.
While restaurants here pride themselves on using local and fresh ingredients, the atmosphere and ambience in Fort Myers Beach are the true stars. What better way to enjoy a nice meal than with a spectacular view of the Gulf, and with many restaurants offering outdoor seating, diners can often feel the breeze coming off the ocean too as they wine and dine in elegance. Doc Ford's Rum Bar and Grille is a favorite among residents and tourists, and readers of Randy Wayne White's popular mystery series will recognize the name of their favorite marine biologist crime-fighter. Fans of the author will feel inspired knowing that they are sitting just a couple hundred yards from where the famous author used to live and and where he gained much of his experience in writing.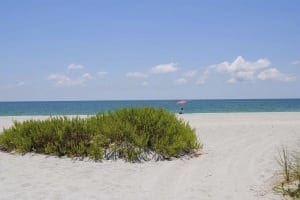 Best of all, with a home in Fort Myers Beach you are close to everything that Southwest Florida has to offer. You'll be just a short drive from Naples and Bonita Springs, home to some of the best shopping and well-kept beaches in the country. And when you get tired of the west coast of Florida, jet on over to the other side and explore Miami or Ft. Lauderdale. South Florida has a plethora of exciting city hubs, so when you run out of things to do at home, the possibilities around you are endless for day trips or weekend excursions.
If you are looking for a city that offers both the peace and quiet of a small town, and the hustle and bustle of a big city, then Fort Myers Beach should be at the top of your list. Year-round residents, snowbirds, and vacationers all agree – Fort Myers Beach has something for everyone, no matter your lifestyle!
Related:
Southwest Florida Things to Do
Choosing a Property to Purchase that Will Rent Well Seasonally
Waterfront Communities for Boaters