Paradise Isle in North Fort Myers to be Re-zoned
Paradise Isle (formerly Paradise Preserve and before that Lochmoor) would be the first significant development in North Fort Myers since the recession. Plans for the property by a previous developer were abandoned after a 2007 foreclosure — at the time the largest ever in Lee County. Built in 1972, the golf course closed in 2006 and remains bordered by existing homes that were part of the original Paradise Preserve master plan.
More paradise: Fullenkamp hopes the comprehensive mixed-use project — with a total cost estimated between $600 million and $1 billion — will encourage further redevelopment of the Hancock Bridge Parkway corridor between U.S. 41 and Cape Coral. The project, if and when Fullenkamp overcomes a myriad of hurdles and challenges, from permitting to traffic concerns, also represents a milestone for sometimes overlooked North Fort Myers.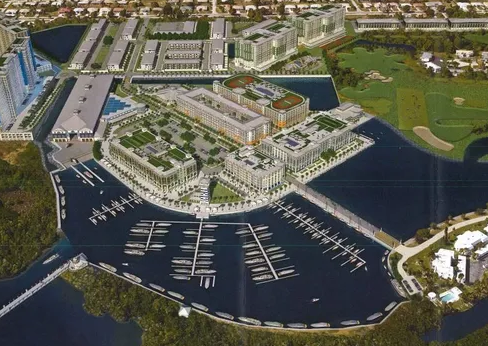 Fullenkamp confirmed that the Paradise Isle development will include:
·  Two 20-story, 300-unit multifamily buildings adjacent to existing conservation area on the far southwest side of the property
·  Two 12-story, 100-unit towers and three-story townhome buildings
·   An expanded marina that will include 200 slips
·   A 200-slip dry boat storage building to the west of the marina
·   A 16-acre mixed-use area that will include restaurants, office space, parks, retail space, a hotel, sales center, golf clubhouse, multifamily residences, health and spa facilities and parking spaces
·   A parking garage
·   Updates and enhancements to the 18-hole golf course
·   Sidewalks throughout the development and a paved public pathway by the water.
Property values on Orange Grove Boulevard and SE 24th Avenue in Cape Coral, the other adjacent road, are set to rise if the plan is approved, Fullenkamp said.
Fullenkamp likened what may happen to the area with what happened when Tarpon Point Marina was installed in Cape Coral: property values skyrocketed, and the area gained traction.
In October the development will go through a hearing examiner for the property. By the late spring or early summer they'll present plans to the county commission for a permit to develop, he said.