Cape Coral Shamrock Lake Waterfront Home Community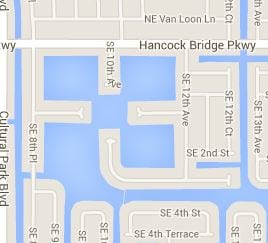 While many people are aware of Cape Coral's gulf access canal systems and saltwater lakes, there is also an abundance of freshwater canals and lakes that are equally popular. The Shamrock Lake neighborhood in Southeast Cape Coral is a beautiful freshwater lake with a mixture of vintage bungalow style homes to newer homes.
The Shamrock Lake community is comprised entirely of single family waterfront homes. This quiet neighborhood is popular not only because of the gorgeous views, but also because it connects many other freshwater lakes for great boating and fishing.
As the name implies, it is a grouping of four smaller lakes in the shape of a four-leaf clover, connected by freshwater canals. Shamrock Lake is close to shopping and dining in Cape Coral along Pine Island Road and is also close to downtown Fort Myers via the Hancock Bridge