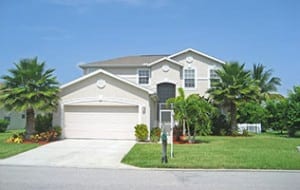 During your home search in Southwest Florida, you are likely to come across a variety of terms describing housing types – coach home, villa, estate, and single family home, just to name a few. Since newcomers to Florida are unlikely to have encountered at least a few of these specific terms before, here are a few definitions to help you keep it all straight.
Attached Villa – Attached villas are similar to duplexes in that multiple units are found within the same building, but unlike apartments, each unit has its own exterior entrance rather than a common hallway. They are single level homes and their very design also sets them apart from apartments in that they resemble single family homes as well. This kind of home is usually found within a master planned community, though they are often much more affordable than single family homes found in similar communities.
Carriage Home – Carriage homes are very similar to coach homes, and in many cases the terms are often used interchangeably. When there is a distinction, carriage homes are usually designated by their larger size, and there are often less units found within each building. Because of these factors, carriage homes tend to be more expensive than coach homes.
Coach Home – Coach homes are somewhat similar to attached villas in that they usually contain between two and four units, however, unlike attached villas there are always two levels. Residents only live on a single floor through, and each has their own unique exterior entrance. This home type is typically found in master planned communities, and homes usually come with their own garages as well.
Detached Villa – Unlike attached villas, detached villas are stand alone homes that can be found in both single level and multi-level designs. What sets them apart from single family homes is their lot size, which is often much smaller and leaves homes closer together. This type of home is also generally found within master planned communities, and potential buyers will often have a few standard floor plans and designs to choose from.
High Rise Condo – To be considered a high rise condo, the building must have at least ten or more floors. Condos of this size nearly always provide elevator access to their residents, and usually come in quite luxurious options. Because high rise condos offer the best views of the Gulf of Mexico below, they are also usually the highest in price, sometimes reaching into the tens of millions for a single penthouse unit.
Low Rise Condo – Low rise condos are those condo buildings that have two levels and at least six units per building. What separates them from smaller attached villas is that they usually lack individual exterior entrances and instead have common hallways, or in Southwest Florida what we call "breezeways." Low rise condos are usually the most affordable of condo options, but because they are so low to the ground, don't always offer the most competitive views.
Mid Rise Condo – Mid rise condos must have at least three levels but no more than ten to be considered such. Within mid rise condo communities you'll oftentimes find a lot of variation – for instance, lower level units may be more moderately priced whereas the highest level units may be quite luxurious and expensive. You'll also find a lot of variation across mid rise condo communities – some may offer elevators and individual carports or enclosed garages to residents, while others may only offer stairs and an uncovered parking lot.
Single Family Home – Single family homes are stand alone homes on their own lots, but within this category there is an extreme amount of variation. This home type can be single level or with multiple floors, can be modest to luxurious in size, and while they are often found in master planned communities, this is not at all always the case. This type of home is ideal for families who are looking for a little more privacy and included exterior spaces.
No matter what kind of Fort Myers, Naples, Bonita Springs, Estero, or Cape Coral real estate you are looking for, Dave and Brenda of Sage Realtor Group are dedicated to helping you find it. Give us a call today at (239) 896-8549 to get started on your search.