Residential Income Property Opportunities
Multi-family and Rental Property Investments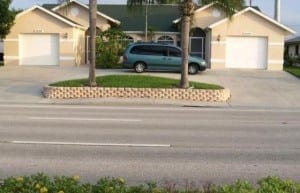 For the pure real estate investment category, there are many options: duplexes, fourplexes, apartment buildings, condominium units, and of course single-family homes. The difference in this category (as compared to second homes) is that you are leasing the property all or nearly all of the time and you do not spend personal time living or vacationing in that property.
For example, some of our customers have two or more homes in the area: one that is classified as their second home, and the others that are leased year 'round. Those leases might be to local Florida residents, to vacationers, or to temporary workers (typically construction workers and developers). Duplexes, fourplexes, six and eightplexes, and condos are also common residential income choices for "small" investors.
In comparison to other metropolitan areas, there are fewer rental units that you'd expect. In Cape Coral, for example, most of the multi-family properties are 12 units and under, with the majority being 4-plexes and duplexes. There are no spawling large apartment complexes. Fort Myers and Naples have a combination of the small multi-family units and a few, but not a ton, of large complexes.
Browse Southwest Florida Multifamily Properties for Sale
We've put together a quick search of duplexes, tri-plexes, four-plexes, six-plexes for sale here with full MLS details on each property.
Are there tax benefits?
Like other types of real estate investments in this area, people enjoy the property appreciation while offsetting or covering expenses. As a landlord, there are many IRS tax benefits that you can leverage. Whether or not the property will have positive cash flow depends on many factors, most notably the purchase price per rentable unit. Other key factors are vacancy rate, location, and condition of the property (e.g., if upgrades are required).
It is common for residential-income properties to be purchased via a 1031 tax deferred exchange. We have first-hand experience with 1031 exchange procedures and can help find properties that will work for your exchange process and time frame.
Who manages the property?
Ideally, it's best to hire a professional property management firm to handle leases, screen applicants, maintain, and oversee the property on your behalf.
There are many reputable companies in the area
who provide this service; fees typically are 10-15%
of the gross rental fee.