Incredible Real Estate Market Statistics for Southwest Florida
Cape Coral Real Estate Update, Fort Myers Real Estate Update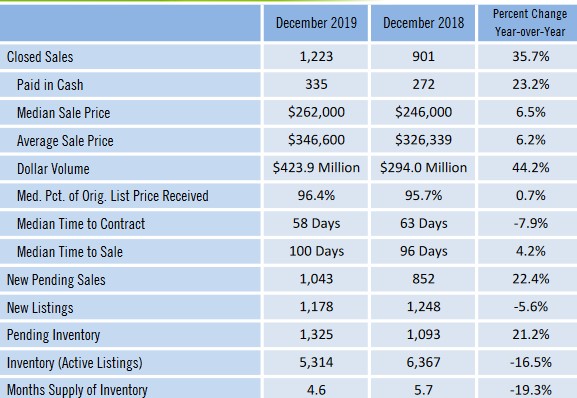 (Fort Myers, FL – January 22, 2020) – Lee County's housing market saw a significant increase in both Single Family, Townhouse and Condos for closed sales compared to December 2018, according to the latest statistics just released by Florida Realtors®. Year-over-year, sales were up by 35.7% for Single Family and a 50.6% change for Condos & Townhouse. December showed Median Sale prices increased at 0.7% for Single Family, and 0.1% for Townhouse and Condos.
Single Family Inventory is down again with year-over year for Single Family at -16.5% in Active Listings, showing a 4.6 Months Supply of Inventory. Townhouses and Condos also showed a decrease in Inventory compared to December 2018 with a -21.2%. Active listings were down by -18.6% year-over-year for Townhouses and Condos with a Months Supply of Inventory of 5.2. The time properties spent on the market in December, was 58 Days for Single Family Homes and 69 days for Townhouses and Condos.
Broken down by cities, Single Family in Cape Coral saw a jump up in sales of 40.4%over last year, with 473 closed sales compared to 337 in December 2018. Fort Myers also saw an increase of 38.7% for Single Family Homes sold with 312 closed sales. The remaining Cities all saw an increase compared to December 2018, with the exception of Pine Island who showed a -26.3% decrease.
When looking at Closed Sales by Price Point, the numbers were up for the price points of $300,000-$399,999 at 55.6% and $600,000-$999,999 at 54.5%. Condos and Townhouse market saw an increase in most of the price ranges. The $200,000-$249,999 had a double digit increase for the month at 82.5%. The $250,000-$299,999 also showed a strong increase at 80.0%