About Southwest Florida Real Estate
Your Quick Southwest Florida Real Estate Overview
First, Where Exactly is "Southwest Florida"?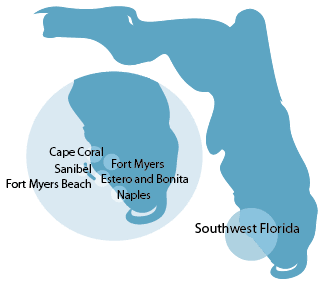 Southwest Florida at the most northern end is Port Charlotte. Going south along the coastline, primary cities are: Cape Coral,  Fort Myers, Fort Myers Beach, Sanibel,  Bonita Springs, Naples, and Punta Gorda. View a larger map of Southwest FL here.
Southwest Florida with unspoiled beaches, exotic wildlife and lush subtropical foliage is a combination of the sophistication of a pampered island resort with the relaxed style of Old Florida.
Getting to Southwest FL
Our area is served by the Southwest Florida International Airport in Fort Myers (Lee County), with direct flights from Toronto, Munich, Minneapolis, Milwaukee, New York City, Memphis, Dusseldorf, Indianapolis, Washington DC, St. Louis, Cinncinati, Boston, Chicago, and many more major cities in North America and Europe.  Alternatively, the international airports in Miami and Tampa are just a two hour drive.